Lobstering in the Florida Keys is a great way to get fresh seafood. The Florida Keys are home to some of the best Spiny Crawfish or lobster in the world. The lobster here are caught in the Atlantic Ocean, Florida Bay, and Gulf of Mexico. They are known for their sweet taste and tenderness. Recreational Lobstering is done by hand, nets, and snares so it is a very labor–intensive process.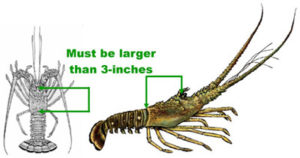 The lobster fishermen have to be very careful not to damage the lobster while they are catching them. The lobster season in Florida Keys runs from August 6th to March 31st. During this time, the lobster are at their peak of flavor and are the most tender. If you are looking for a great way to enjoy fresh seafood, then lobstering in Florida Keys is the perfect activity for you.
Below are more articles about Florida Keys Crawfish.
An extensive public awareness initiative has begun to help leisure Florida Keys travelers and residents have an enjoyable, safe and non-impacting experience during both the two-day Spiny Lobster Sport Season and the traditional lobster harvesting season. A dedicated website, KeysLobsterSeason.com, includes interactive videos with need-to-know dive and boating safety tips, up-to-date rules, regulations for lobster hunting … Read more
At its February meeting in Crystal River, the Florida Fish and Wildlife Conservation Commission (FWC) approved several changes to the spiny lobster bully net fishery, including directing staff to launch a "Respectful Bully Netting" outreach campaign. The FWC has received input from stakeholders about the increasing participation in the commercial bully net lobster fishery, and … Read more
Spiny lobster season is gearing up, and it is not just for divers. Harvesting by Lobster Bully Netting at night with the use of bully nets and lights is legal and fun, and is popular in the Florida Keys and portions of Miami-Dade County. By being courteous and respectful of each other, bully netters, homeowners … Read more
Spiny Lobster Sport Season Season dates Bag limit Possession limit – on the water Possession limit – off the water Minimum size limit     Last consecutive Wednesday and Thursday of July each year) 6 per person per day for Monroe County and Biscayne National Park   12 per person per day for the rest … Read more
On Oct. 1, an amendment to the Florida statute pertaining to Spiny Lobster harvest went into effect, giving authorities more latitude in prosecutions for those who harvest undersized spiny lobster. The new legislation, SB 1470, sponsored by Rep. Holly Raschein and Sen. Jack Latvala, and championed by many in the Keys, specifies that each undersized … Read more
These Keys Treasures Designs and many more are available on products such as T-Shirts, Stickers, Magnets, Mugs, Phone Cases, and much more at KeysTreasures.ReBubble.com