Commercially caught Stone Crab claws are cooked immediately after harvest and available fresh cooked or frozen. Fresh cooked claws should be eaten within three to four days if packed in ice or stored in the coldest part of a refrigerator. Be sure to only freeze Stone Crab claws that are completely intact and free from cracks in the shell. The thick shell will protect the meat for up to six months in a home freezer. Thaw frozen Stone Crab claws in the refrigerator, allowing 12 to 18 hours for them to thaw completely. The quality will be compromised if they are thawed under running water or at room temperature.
If you have harvested your own Stone Crab claws, don't put your harvested claws on ice. This could cause the meat to stick to the shell. Set the claws into an empty cooler or your live bait well until you get home. The claws should be cooked immediately.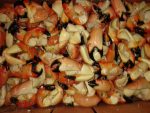 Pre-boil water before adding the Stone Crab claws. Bring the water back to a boil and cook for six minutes. Any claws that float to the surface are recently-molted claws called "floaters." They tend not to have as much meat but are still delicious. The claws are ready to eat, warm, straight from the boiling pot, but most like them cold. Take them straight from the pot and put them on ice for approximately 45 minutes.
Since most Stone Crab claws are eaten cold the next step is to prepare some dipping sauces. You can always keep it simple with melted butter or lemon juice. The most common dipping sauce is a mustard sauce, made famous by Joe's Stone Crab.
Famous "Joe's Stone Crab Restaurant" Mustard Sauce
Ingredients:
3 1/2 teaspoon dry English mustard
1 cup mayonnaise
2 teaspoon Worcestershire sauce
1 teaspoon A-1 Steak Sauce
1/8 cup light cream
1/8 teaspoon salt
Instructions:
Blend the mustard and mayonnaise.
Beat for about 1 minute.
Add the remaining ingredients and beat until the mixture reaches a creamy consistency.
Yield:
About 1 cup
If you aren't a fan of mustard sauces or just want to try something different here are several others to try.
Key West Cocktail Sauce
Recipe courtesy of Emeril Lagasse
1 cup mayonnaise
2 teaspoons hot chili sauce (recommended: Sriracha)
1 teaspoon grated fresh ginger
1/2 teaspoon minced garlic
1 teaspoon minced green onions
1 teaspoon Key lime juice, or to taste
1 tablespoon freshly chopped cilantro leaves
1/2 teaspoon freshly ground white pepper
1/4 teaspoon salt
1 lime, cut into wedges
2 tablespoons picked cilantro leaves, for garnishing
To make the dipping sauce, stir together the mayonnaise, hot chili sauce, ginger, garlic, green onions, lime juice, chopped cilantro, white pepper and salt in a medium bowl and refrigerate, covered for half an hour before serving.
When ready to serve, pile the crab claws on platters, garnish with the lime wedges and cilantro leaves and serve with the Key West Cocktail Sauce.
JALAPENO HONEY SAUCE
Those afraid of heat can pare it down to just 1 or 2 peppers, but 3's actually not as hot as you might think. This dip, found through food.com, is like cocktail sauce gone Southwestern. It's just enough kick to perk up you and your stone crabs quite nicely.
1 tablespoon butter
3 small jalapenos, seeded and diced
¼ cup rum
1 cup barbecue sauce
1 teaspoon cayenne pepper
¼ cup honey
1 tablespoon fresh cilantro, chopped (optional as garnish)
• Melt butter in a saucepan, add jalapenos and rum and cook over medium high heat until the liquid is reduced by half.
• Add the remaining ingredients and simmer 20 minutes, stirring frequently.
• Serve hot or chilled, garnished with cilantro.
SPICY MARINARA SAUCE
Marinara actually takes its name from the Italian word for sailors, or mariners. It's the style of sauce fishermen in the south of Italy would make, after selling their catches to rich people — or so the story goes. This version, adapted from allrecipes.com, has a little kick, a hint of spice to balance all that sweet, sweet stone-crab goodness.
1 tablespoon olive oil
2 cloves garlic, chopped
5 tomatoes, peeled and finely chopped
1 teaspoon white sugar
1/4 cup water
2 teaspoons chopped fresh basil
½ teaspoon chili flakes (optional)
• In a large skillet, heat oil and saute garlic until light brown and softened. Be careful not to burn the garlic. Stir in chili flakes, tomatoes, sugar, water, basil, salt and pepper.
• Bring contents of the pan to a boil. Cover and simmer on low heat for approximately 45 minutes, stirring occasionally. Serve warm.
There are also many delicious recipes other than simply cold claws and dipping sauces. Here are some favorites.
Mango Marinated StoneCrab Claws
Ingredients:
3 pounds medium Florida stone crab claws
2 cups ripe Florida mango, cut into 1/2 inch cubes
3 tablespoons Florida cilantro, finely chopped
2 Florida jalapeño peppers, seeded and minced
4 tablespoons Florida lime juice
1 tablespoon light brown sugar
Florida salad greens
Instructions:
Crack claws and remove shell and movable pincer, leaving the meat attached to the remaining pincer.
Place in a single layer in a shallow dish.
To make salsa marinade, combine mango, cilantro, peppers, lime juice and sugar in a mixing bowl.
Taste for seasoning, adding more lime juice and/or brown sugar as needed.
Spoon the salsa mixture over the meaty part of crab claws.
Cover and marinate in refrigerator at least 2 hours.
Serve claws on a bed of salad greens with mango salsa as an appetizer.
Yield:
4 servings
Curried StoneCrab Claws with Hot Marmalade Dip
Ingredients:
3 pounds Florida stone crab claws (thawed if frozen)
1/3 cup orange marmalade
1/4 cup Florida lime juice
1/4 cup soy sauce
1 clove Florida garlic, minced
1 teaspoon cornstarch
1/2 cup butter, softened
1 teaspoon curry powder
Instructions:
Crack and remove outer shell from stone crab claws, leaving meat attached to the moveable pincer.
Set aside.
In a medium saucepan combine marmalade, lime juice, soy sauce, garlic and cornstarch mixing well.
Cook on medium heat, stirring constantly, until sauce is clear and thickened.
Reduce heat and keep warm.
In a large sauté pan, melt butter on medium heat; stir in curry powder.
Add stone crab claws and sauté for 2 to 3 minutes until heated through.
Serve with hot marmalade sauce.
Yield:
4 servings
Marinated StoneCrab Claws
Ingredients:
2 1/2 pounds frozen Florida stone crab claws
1/2 cup butter, softened
1 teaspoon curry powder
1/3 cup orange marmalade
1/4 cup lime juice
1/4 cup soy sauce
1 clove Florida garlic, minced
1/2 teaspoon ginger
Instructions:
Crack and remove outer shell from the claws, leaving meat attached to the moveable pincer that is on one side of the claw.
Cream together margarine and curry powder.
Spread curry butter over both sides of frozen stone crab claws; arrange on broiling pan.
In the meantime, combine remaining ingredients, mixing well.
Cook, stirring constantly, until clear and thickened; keep warm.
Place broiler pan with the crab claws about 3-inches from heat source and broil 6-8 minutes, turning once, or until hot.
Serve with hot marmalade dip.
Yield:
4 servings
Of course, you can always visit your favorite Florida Keys restaurants and enjoy your Stone Crab claws prepared for you. If you need some recommendations try these.
Conch Republic Seafood Company
These Keys Treasures Designs and many more are available on products such as T-Shirts, Stickers, Magnets, Mugs, Phone Cases, and much more at KeysTreasures.ReBubble.com