Federal fishery managers meeting this week in Georgia hear proposals to raise the annual limit on spiny lobster harvests, the Florida Keys' most economically important commercial species.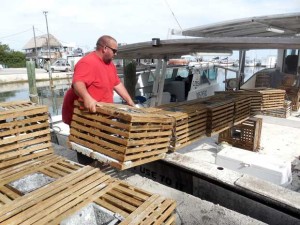 The council is considering raising the annual catch numbers of spiny lobster because fishers contend that the number were based on yearly averages that include some of the worst lobster seasons on record.
Twice in recent years, the harvests have exceeded the current catch limit of 7.3 million pounds. A legal sized lobster weighs about 1 pound.
During the bad seasons, "the historic low level of landings that were documented for the species [suggested] biological conditions had changed and that spiny lobster populations were at a new low normal," says council staff summary.
"Since landings have been much higher than anticipated, the review panel… determined that conditions for spiny lobster are likely better than they were during the 10-year period of low landings."
Studies show most South Florida spiny lobster arrive from South America, council staff says.
"Juvenile spiny lobster that settle in South Florida have a high probability of recruiting from several spawning populations throughout the greater Caribbean and are not locally self-recruited," the summary says. "Therefore, landings in South Florida are unlikely to have a substantial effect on future recruitment. Since nearly all recruitment comes from outside the U.S., the stock is not at risk of undergoing overfishing."
The Spiny Lobster Committee meets at 1:30 p.m. Monday with public comment session Wednesday afternoon. Final discussion of lobster takes place Friday morning at the full council session. For more information, go to www.safmc.net.
Source: Florida Keys News