Free or Almost Free* things to do in the Florida Keys
The Florida Keys can be an expensive place to live and visit. These pages bring you some of the best, less expensive (* FREE or $10 or less for a family of 4), things to do.
---
On these Pages you will find Free Things to do Through Out all of the Florida Keys. 
For more specific Free Florida Keys Things to Do grouped by location.
Click on one of these locations:
Upper Keys – – Middle Keys – – Lower Keys – – Key West.
---
Biking in the Florida Keys
Fees: Just bring your bike.
Most of the Florida Keys have Bike Paths along the Overseas Highway. Many of these paths continue to various parks and beaches off the highway. With the weather and flat terrain the biking is easy and in many areas the scenery is outstanding. You can bring your own bike or there are many places to rent a bicycle.
---
Fees: There are entrance fees at some of the parks with beaches but most are Free.
While the rest of Florida has some of the best sandy beaches in the world, the Fabulous Florida Keys are not known for there long expanses of sand beach. This is not to say there are no sand beaches in the Florida Keys, just that most are on the small side and often man-made.

In Key Largo you will enjoy the Harry Harris Park Beach. Islamorada has Anne's Beach, Marathon is blessed with Sombrero Beach and Key West has a number of public beaches including Higgs Beach, Smathers Beach and South Beach.
We do have one famous Florida Keys beach. In Bahia Honda State Park you will find Sandspur Beach which has been listed as one of the top beaches in the US in some rankings.
More Florida Keys Beach Information
---
Bridge Fishing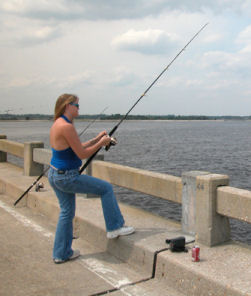 Fees: The new shoreline saltwater license requirement allows exemptions for residents who are age 65 or older, all children under age 16, resident disabled persons who meet certain qualifications, active duty military personnel while home on leave, and all anglers who fish from a licensed pier. In addition, the license requirement includes exemptions for resident anglers drawing food stamps, temporary cash assistance or Medicaid who have proof of identification and a benefit issuance or program identification card issued by DCFS or the Agency for Health Care Administration, and anglers who use a pole or line without a line retrieval mechanism (such as a reel) in their home counties.
Residents who only saltwater fish from the land or a structure attached to land, may get the resident recreational saltwater shoreline fishing license at no cost (except for convenience fees that apply on telephone and Internet orders). NOTE: This license does NOT cover anyone fishing from a boat or from an island that they arrived at by boat. If you have a resident recreational saltwater fishing license or a resident persons with disabilities fishing license, you do not need a shoreline fishing license because the resident recreational saltwater fishing and disability license cover fishing from the shore, a dock, a jetty or a boat.
Nonresidents must purchase a 3-day, 7-day or annual nonresident saltwater fishing license when saltwater fishing from the shore or a pier, bridge or jetty attached to the shore unless fishing on a pier with a pier license. Nonresident saltwater anglers must purchase a regular nonresident saltwater fishing license at $17 for three days, $30 for seven days or $47 for one year, regardless of whether they fish from shore or a vessel. These prices include administrative fees, but handling fees are additional.
As long as you bring your own Fishing Tackle the only additional cost is for bait. Frozen baits like shrimp, mullet and squid are the least expensive. Live Pinfish can be $1 each. You can also pick up some chum and use it to attract and catch your own live bait.
Most of the Keys bridges have been replaced and many of the old bridges have been left in place to serve as fishing platforms. Some of these can get you several miles from shore. If you choose your fishing times right (tides and temperature play a big part in the fishing) you can not only have a good time you may also take something home to eat. Unfortunately as these old bridges age some deteriorate to the point that they must be shut down to all traffic.
---
Sunrises and Sunsets
Fees: Free

There are few places in the U.S. (or the world for that matter) where you can watch the

sunrise over the sea in the morning and then watch the sunset over the sea that evening. In some locations you only have to move your chair in between. Just one of the reasons we call this paradise.