Florida Keys Beaches

While the rest of Florida has some of the best sandy beaches in the world, the Fabulous Florida Keys are not known for their long expanses of sandy beach. This is not to say there are no Florida Keys sand beaches, just that most are on the small side and often man-made. That being said, We do have one Famous Keys Beach and some other very nice Florida Keys beaches. I will start off with the best and continue with several others throughout the Keys in no particular order.
This site is occasionally again acting up. I am sorry if this causes you any problems.
---
---
Bahia Honda State Recreational Area
With both sandy beaches and deep waters near shore you will enjoy exceptional swimming and snorkeling here. There are two excellent Keys beaches in this park: Sandspur Beach on the oceanside (Sand Spur Beach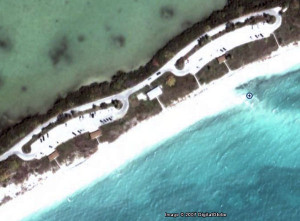 was the 1992 National Winner, see below) and Caloosa Beach near the Bahia Honda Bridge. You will know you are in the Caribbean with the crystal clear, turquoise water, and white coral sand beach lined with coconut palms. The water is warm year-round, making it a beach for all seasons. Sandspur beach (click on the photo for a closer view) has a very gentle drop off and the absence of waves makes it perfect for bathing by young children, and for swimming, snorkeling, and kayaking for everyone.
Directions: Bahia Honda Key, mile marker 37, Oceanside, Overseas Highway
Includes: Boat Rentals, Campgrounds
Features: Covered Pavilion, Concessions, Restrooms, Showers, Boat Ramp, Gear Rentals, Gift Shop, Grills and Picnic Tables.
In 1992 Bahia Honda SRA Beach was chosen as the best beach in the US
Ranking by Dr. Stephen Leatherman
Professor and Director, International Hurricane Center
Florida International University. So much for no decent Florida Keys beaches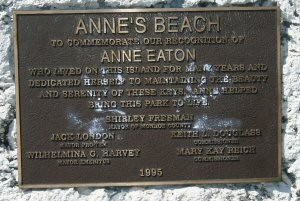 This Florida Keys Beach is dedicated to local environmentalist Anne Eaton, Anne's Beach is a Monroe County beach and features a shallow swimming area, covered picnic tables, boardwalk and bathroom facilities. It is located on the Atlantic Ocean, but there is almost no wave action, due to the wide expanse of shallow water typical for Florida Keys beaches, and visitors will enjoy the clear and warm waters year round.
Directions: Mile Marker 73, Overseas Highway, Lower Matecumbe Key, Oceanside.
Includes: Boardwalk.
Features: Restrooms and Picnic Tables.
---
---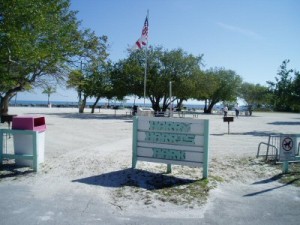 This Monroe County Park provides a protected man-made lagoon with a sandy beach and clear ocean water for safe relaxing swimming. This well maintained Keys beach is just one of this parks amenities. Others include a childrens playground, restrooms, picnic tables and barbecue grills, fishing jetty, boat ramp and ball fields.
Park Hours: Sunrise to Sunset.
Admission: free all the time for Monroe County residents. On Saturdays, Sundays and Federal Holidays, Non-County residents over 16 years of age, are charged $5 per person.
Directions: Mile Marker 92.5 Oceanside, Overseas Highway. Take Burton Drive to its end.
Includes: Ballpark, playground, bike path
Features: Covered Pavilion, Restrooms, Showers, Boat Ramp, Grills and Picnic Tables
More info on Harry Harris Park Beach
---
Smathers Beach Key West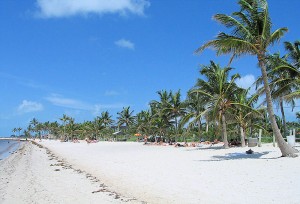 One of Key West's longest beaches offers a wide variety of watersport rentals which will provide all you will need for a great day at a Keys beach. Early risers can view sunrises as spectacular as Key West's famed sunsets from this Fabulous Florida Keys beach.Directions: Off U.S. Highway 1, turn left onto South Roosevelt Boulevard. Follow South Roosevelt past the airport to this top Keys beach.Features: Concessions, Restrooms, Volleyball, Gear Rentals and Picnic Tables.
For more info click here Smathers Beach
---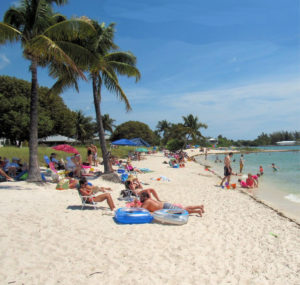 Sombrero Beach Marathon
This Florida Keys Beach benefited from Hurricane Georges with an increase in sand deposits and repairs and improvements by the Monroe County Tourist Development Council. Visitors will enjoy a gradually sloping, fine-grain sand beach on the Atlantic Ocean.
Sombrero Beach is a beautiful park and sandy beach. In 2001 the City redeveloped Sombrero Beach to include total handicap accessibility. A lovely sandy beach on the Atlantic Ocean frames a shady park with picnic pavilions, volleyball courts, restrooms, and showers.
Sombrero Beach is a turtle nesting beach. From April through October it is not unusual to have Loggerhead Turtles (primarily) coming on to the beach at night to lay their eggs. During active turtle nesting season, the City limits human activities in the vicinity of active turtle nest establishments. Turtle nest areas typically represent less than 10% of the available beach area. The remainder of the beach is open for our visitors and residents to enjoy. The City regularly surveys the beach for new turtle nesting. If you are interested in assisting the City in preserving the turtle population as a turtle surveyor, please do not hesitate to contact the City.  F.D.E.P. holds classes in February or March every year to be a state certified surveyor. The City then schedules all of the surveyors for their day to walk the beach. Walking the beach first thing in the morning looking for turtle nests is an awesome experience.
The hours are from 7:30 a.m. until dusk. To get there turn South on Sombrero Beach Road and drive to the end of the road. You are there!
Click here for more photos of Sombrero Beach
Click here for the Sombrero Beach Webcam
Directions: Overseas Highway, Mile Marker 50, Oceanside. Follow Sombrero Beach Road three miles to beach.
Includes: Playground
Features: Covered Pavilion, Restrooms, Showers and Volleyball