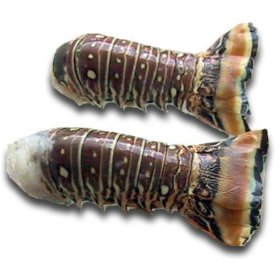 There seems to be no debate among Florida lobster aficionados concerning how to cook this delicacy of the sea. "You have got to grill them," said restaurateur Frank Chivas. "There is no other way."
But Chivas and his longtime friend Tom Pritchard, the creative force behind many of his restaurants, disagreed on the next step. "I like to start them out shell down," said Pritchard, one of America's top chefs. "You want to protect the meat."
Chivas, a Florida native who has spent weeks at a time diving and fishing in Lobsterland, a.k.a. the Florida Keys, had another idea. "I like to cut them in half, then put the meat side down first," he said. "You let them cook for a few minutes, then flip them over and add a little grouper stuffing."
Florida lobster is best grilled or broiled but never boiled. Save the big pot of water for their cousins from Maine. While related, the Caribbean spiny lobster has no big, crushing claws. All of its meat is in the tail, which cooks up nicely on the grill.
Herbed Hogfish On The Grill from Islamorada
Recreational scuba divers and snorkelers get first crack (no pun intended) at Florida lobsters during a special, two-day "mini season" at the end of July. The regular season opened Aug. 6 for commercial fishermen. "It usually takes a couple of days to get the first shipment," said Rich Crepeau, manager of Gulfport's Save on Seafood. "But then we get them every week, fresh, never frozen."
The price of lobster varies depending on demand. For years it hovered around $5 per pound (dockside) then dropped to $3.18 in 2009-10. Prices climbed to an all-time high of $10.35 per pound last year thanks to a demand for live Florida lobsters in China. But prices have dropped in recent weeks, and Save on Seafood is now selling Florida lobster at $9.99 per pound.
"I cut them in half with a band saw, so they are easier to cook," said Crepeau. "Most of my customers buy a crab cake to use as stuffing on the grill — the best way to cook them."
No Bake Key Lime Pie – This Recipe Will Surprise You
Foodies love to debate which species tastes better, the Maine or Caribbean spiny lobster. Some claim the cold-water lobster has a denser, sweeter meat. The most obvious difference between the two is that the Caribbean lobster, which actually ranges from North Carolina to Brazil, does not have large claws for hunting and defense like the Maine or American lobster. The Caribbean or Florida lobster's primary defense is its speed. When threatened by a predator, it can take off in the blink of an eye with a flip of the tail, leaving a diver bewildered and empty-handed.
Sport divers often call Florida lobsters "bugs." That's because crustaceans and insects are both invertebrates and come from the same phylum, Arthropoda. The common traits lobster and insects share are jointed appendages — legs, antennae and mouthparts — hence the bug reference.
The average spiny lobster has a carapace (the shell that covers its body) length of 3 inches and weighs about 1 pound. Lobsters smaller than this are too "short" for divers to take legally. The largest spiny lobster on record was more than three times that size, weighing in at more than 21 pounds with a 10-inch carapace length.
Commercial fishermen fish two to three times as much lobster as recreational divers. The commercial catch now averages about 5 million pounds a year after peaking at 7.7 million during the 1996-97 season.
Tom Matthews, a biologist with the Florida Fish and Wildlife Conservation Commission's field office in the Caribbean, declined to join the shell side- versus meat side-down debate, but did add this: "The most important thing you need to know about Florida lobster is not to overcook them."
Contact Terry Tomalin at . Follow @TomalinTimes.
How to cook Florida lobsters
Most lobster lovers split the tail with a large knife or band saw. Brush the meat with a combination of olive oil or butter, add a little lemon juice and pepper and then put them on the grill. It doesn't matter which side goes first (unless you are adding stuffing). Cook the shell side about 6 minutes, and the meat side about 2 minutes.
EASY
Sweet Cream Butter Broiled Florida Spiny Lobster Tails
4 (6- to 9-ounce) spiny lobster tails, split open in the shell
¼ stick unsalted butter, softened at room temperature
Sea salt to taste
Fresh ground pepper to taste
Preheat oven broiler on medium high.
Instructions
Place all 4 of the lobsters on a cookie sheet and make sure they are opened up down the middle. Evenly spread the softened butter over each of the lobster tails' meat. Lightly season each lobster tail with salt and pepper.
Place lobsters in the oven on the middle rack under the broiler. Let lobster cook under the broiler for about 7 minutes or until just barely cooked throughout.
Remove lobsters from oven and let cool slightly. Serve lobster tails warm with fresh lemon. Serves 4.
Source: freshfromflorida.com
MEDIUM
Crab-Stuffed Florida Lobster
2 whole lobsters, split lengthwise
1 tablespoon butter
1 tablespoon celery, finely chopped
1 shallot, finely chopped
1 teaspoon flour
1 teaspoon dry mustard
¼ teaspoon cayenne pepper
¼ cup milk
½ cup crab meat, flaked
1 tablespoon butter, melted
3 tablespoons dry bread crumbs
Paprika
Instructions
Remove lobster meat, rinse lobster body cavity thoroughly and set aside.
In a small skillet, saute celery and shallot in butter until soft. Stir in flour, dry mustard, cayenne and milk; simmer until thickened. Add crab meat and spoon mixture into lobster body.
Brush lobster meat with melted butter. Sprinkle bread crumbs and paprika over crab and lobster meat.
Bake on ovenproof pan at 400 degrees for 15 to 20 minutes until cooked through and lightly browned. Serves 2.
Source: freshfromflorida.com
Lobster Bisque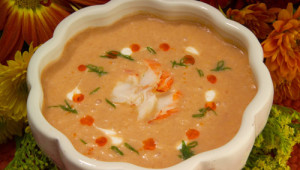 Ingredients
1 ½ pounds cooked spiny lobster meat
2 tablespoons olive oil
1 medium onion, finely chopped
1 rib celery, finely chopped
1 carrot, finely chopped
1 tomato, finely chopped
6 cloves garlic, chopped
2 tablespoons fresh tarragon leaves, chopped
2 tablespoons fresh thyme leaves, chopped
1 bay leaf
8 black peppercorns
½ cup brandy
½ cup dry sherry
4 cups fish stock or bottled clam juice
¼ cup tomato paste
½ cup heavy cream
1 ½ tablespoons cornstarch
2 tablespoons water
Salt and pepper to taste
Instructions
Slice cooked lobster meat into medallions, reserving a few slices for garnish. Coarsely chop remaining slices; cover and chill.
In a 6-quart stockpot, saute the vegetables, garlic, herbs and peppercorns in oil over medium-high heat until soft. Add the brandy and sherry, simmering until most of the liquid is evaporated. Add the fish stock and simmer uncovered for 1 hour, stirring occasionally. Strain the stock into a large saucepan; discard remaining solids. Add tomato paste and simmer for 10 minutes until stock is reduced to 3 cups of liquid. Stir in cream and simmer for an additional 5 minutes.
Combine cornstarch and water in a small bowl and whisk into bisque.
Simmer for 2 minutes, stirring, until slightly thickened. Add chopped lobster meat and simmer until lobster meat is heated through. Add salt and pepper. Discard bay leaf. Serve garnished with reserved lobster medallions. Serves 4-6.
These Keys Treasures Designs and many more are available on products such as T-Shirts, Stickers, Magnets, Mugs, Phone Cases, and much more at 
KeysTreasures.ReBubble.com