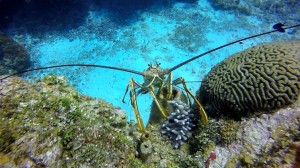 The antennae sticking out of the hole gave the creature away. So with great caution and care, I placed my tickle stick behind the Florida Lobster and tried to gently coax it into my net.
But with one flip of its tail, it shot out between my legs like a cartoon crustacean, leaving nothing but a cloud of crushed shell and sand in its wake. The Caribbean spiny lobster, as it turns out, is no easy prey. Masters of camouflage, these wily crustaceans can be hard to find and quick to disappear.
Most divers and snorkelers who head to Florida's east coast and the Florida Keys for next week's two-day lobster miniseason will probably head to spots that have been fruitful before. But lobsters love to move around.
The best spots may change from season to season. Fluctuations in weather, current, water temperature, even tides can put lobsters on the run, so a successful "bug hunter" — and this is an active sport — must often cover some ground to find the mother lode.
Though divers will find lobsters in the deeper waters off Tampa Bay, the lobsters tend to be scattered and difficult to pinpoint with certainty. The plus to lobstering local waters is that the bugs tend to be big, some 10 pounds or more, compared with those in the Keys.
Local lobster hunters must also work at greater depths, usually 80 feet or more, which can prove challenging for your average weekend warrior. Keys divers and snorkelers can sometimes catch lobsters in 10 feet or less, which is one reason Monroe County is the place to go the last Wednesday and Thursday in July.
Though divers up the coast as far north as the Carolinas claim to catch lobsters during the summer months, Florida is Bug Central, and not because we also have a healthy population of its cousin, the American cockroach, aka the palmetto bug.
Didn't mean to spoil your dinner, but Panulirus argus, the spiny lobster, and cockroaches are invertebrates and come from the same phylum, Arthropoda. Common traits that lobsters and insects share are jointed appendages — legs, antennae and mouthparts — which is why divers affectionately call lobsters bugs.
Northern visitors, particularly those from New England, might disagree with the lobster reference, given the Florida variety looks more like crawfish than the large-clawed creatures from Maine.
Those big clampers, the cold-water crustacean's main (no pun intended) line of defense, also contain some of the sweetest meat. But though the clawless Florida lobsters may look puny in comparison, their tail meat is every bit as delectable.
If you don't believe me, go see for yourself. There's nothing like a grilled lobster tail just a few hours out of the water. But if you plan to head anywhere between Key Largo and Key West for the lobster miniseason, know that most of the hotels in the Keys are booked up in advance. If you don't have reservations, you may want to consider an alternate location. A bonus: If you dive outside of Monroe County and Biscayne National Park, you can keep twice as many lobsters (12) each day as your Keys counterparts. Jupiter, Palm Beach, Fort Lauderdale and Miami have good lobstering grounds and a fraction of the divers. Another advantage: You can hunt after sundown, when lobsters are most active.
If you plan on getting in on the hunt, you need to know how to measure a lobster. The average bug has a carapace (the shell that covers its body) length of 3 inches and weighs about 1 pound. Lobsters smaller than this are too short to take legally.
You also need to know how to identify an egg-bearing female. Female lobsters carry eggs (you will see them directly under the tail) for about a month any time between April and August. A typical female lobster can produce about 300,000 orange-colored eggs per clutch. Large females can produce as many as 2 million eggs per clutch. The "berries" start out orange but darken as the eggs mature. An egg-bearing female is said to be "berried," and under the regulations they must be released unharmed.
Bag limits
You may keep six lobsters per person per day in Monroe County (the Florida Keys) and Biscayne National Park, and 12 per person per day in the rest of Florida. The possession limit on the water is equal to the daily bag limit; off the water, it is equal to the daily bag limit on the first day and double the daily bag limit on the second day.
Special prohibitions
Night diving is prohibited in Monroe County during the miniseason but is allowed in other areas of the state. A recreational saltwater license and a crawfish permit are needed for harvest. The harvest of lobsters is prohibited in John Pennekamp Coral Reef State Park during the miniseason. Harvest is also prohibited during the miniseason and the regular season in Everglades National Park, Dry Tortugas National Park and no-take areas in the Florida Keys National Marine Sanctuary.
If you miss the miniseason, the regular season opens Aug. 6 and runs through March 31, with a bag limit of six per day.
Terry Tomalin can be reached at or (727) 893-8808.
Source: Wily Florida lobsters can be elusive | Tampa Bay Times
These Keys Treasures Designs and many more are available on products such as T-Shirts, Stickers, Magnets, Mugs, Phone Cases, and much more at KeysTreasures.ReBubble.com