An extensive public awareness initiative has begun to help leisure Florida Keys travelers and residents have an enjoyable, safe and non-impacting experience during both the two-day Spiny Lobster Sport Season and the traditional lobster harvesting season.
A dedicated website, KeysLobsterSeason.com, includes interactive videos with need-to-know dive and boating safety tips, up-to-date rules, regulations for lobster hunting within the Keys such as daily limits and correct harvesting techniques. It also stresses avoiding prohibited, no-take zones protected within Florida Keys National Marine Sanctuary boundaries.
Spiny Lobster Sport Season, locally dubbed "mini-season" because of its short time duration, the statewide two-day harvesting timeframe begins at 12:01 a.m. the last Wednesday of July and ends at midnight the following day.
Regular lobster season begins at 12:01 a.m. Aug. 6 and continues through March 31.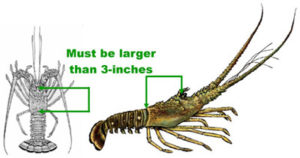 Newly created public safety awareness messages emphasize the importance of catching lobsters responsibly and protecting their habitats, encourage boating and sport diving safety and convey resource-protection rules, regulations and other measures.
Communications are to be distributed via radio and television public service announcements, outdoor billboards, dynamic roadside messaging for motorists entering the Keys, social media, app technology, and print and digital brochures for overnight lodging properties and vacation home rental agencies.
"We want to impress the need to protect our marine ecosystem resource, as well as vessel and dive safety, not just during mini-season but for the entire open lobster season," said Stacey Mitchell, director of the Monroe County Tourist Development Council, the campaign's creator.
The communications strategy is a collaborative effort with a task force of representatives from the Florida Fish and Wildlife Conservation Commission, the TDC, Monroe County Sheriff's Office, Florida Keys National Marine Sanctuary, municipalities and other tourism representatives.
"This collective input of so many local stakeholders should help make this a safer, more successful and productive event for our visitors, residents and our environment," said Monroe County Mayor Michelle Coldiron, who chairs the task force along with City of Marathon Councilman John Bartus.
Local, state and federal agencies strictly enforce lobster harvest and boating safety regulations.
FWC officials are to stage an information booth at Key Largo's Waldorf Plaza, mile marker 100 oceanside in front of Divers Direct. Staff are to demonstrate how to properly measure harvested lobsters and provide the latest lobster-catching rules and regulations. Planned hours of operation are 10 a.m. to 4 p.m. Saturday, July 24, through Tuesday, July 27.
Florida's lobster sport season began in 1974 after the Florida legislature approved it to lessen conflict between commercial trappers and recreational divers.
Keys lobster season information: KeysLobsterSeason.com
Source: Florida Keys Launch Public Awareness Campaign Ahead of Spiny Lobster Sport Season | Florida Keys Newsroom
These Keys Treasures Designs and many more are available on products such as T-Shirts, Stickers, Magnets, Mugs, Phone Cases, and much more at KeysTreasures.ReBubble.com