No one thinks of the Florida Keys as a major farming community anymore, but it was in the 1800s. Thousands of bushels of tomatoes were produced and canned. In 1882 Keys farmers sold $200,000 worth of pineapples alone. They sold Irish potatoes, sweet potatoes, cabbage, beets, carrots, turnips, and cassava, as well as the plentiful fruit from trees. Capt. Ben Baker farmed Plantation Key, according to Upper Keys historian Jerry Wilkinson, and had a cash crop of pineapples one year that returned $7,000, which he shipped using his own vessels while he lived in Key West. Farmers grew fruit trees in what they called red holes. These were natural holes in the coral cap rock that were 15 to 30 feet in diameter and where the soil was deep and colored red from the detritus of hardwood hammocks. The Upper Keys was the main growing area because it got 20 inches more rain than Key West. Pineapple farms closed when ferries and the railroad could provide cheaper fruit from Cuba to the mainland. When the highway opened up, land became more valuable as housing developments flourished and farms closed down.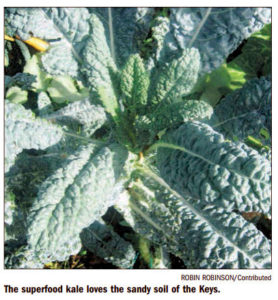 At the recent Florida Keys Green Living & Energy Education, or GLEE, annual meeting, Rick Smith, president of Key West's May Sands Gardens, explained how community gardens are re-establishing farming on a small scale. Recently redesigned garden plots there grow some of the most successful crops in years. Especially excellent are the new non-GMO papaya trees, banana trees and eggplant bushes. These grow year round and produce year after year. Smith is calling this area of the plot a "Communal Food Forest." It is mixed plants instead of a row of the same plant, so that a disease does not easily jump from one plant to another. Fruit growing in the gardens include mulberry, cumquat, star fruit, fig and dragon fruit. Plots are watered with a system of ollas, which are permeable water vessels buried in the ground. A 2,500-gallon rain tank, which collects water off of the school's roof, is the primary source of water. Vegetables grown in private plots include high yield basil, dill, parsley, beans, collards, tatsoi, purslane, moringa, leaf celery, thyme, fennel, onions, various lettuces, asparagus, sweet potatoes, Seminole pumpkins, sweet peppers, jalapeno peppers and kale.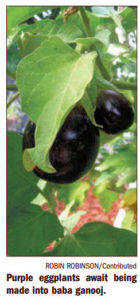 Unlike many supermarket greens, these are richer in nutrients and are grown without chemical fertilizers. Gardeners are continually experimenting with what grows well in the Key West climate. Survival gardener David The Good has written several excellent reference books, "Create Your Own Florida Food Forest" and "Totally Crazy Easy Florida Gardening." He makes it sound easy and gives lots of tips for purchasing individual species of plants. The May Sands Gardens cooperate with local schools offering free garden space for students and teachers and free communal membership for teachers. A $75 membership provides a plot of private ground, rights to communal fruits and vegetables, mulch, fresh soil, compost and a membership in GLEE. A communal membership costs $50 and provides access to the communal beds, which circle the central private gardens. The gardens are open on Saturday mornings for any inquiries. "It is not necessary to replace all of your food with garden-fresh items, even replacing a small amount makes a difference," Rick Smith said. It all adds up.
Key West Master Gardener Robin Robinson was a columnist for the Chicago Daily News and syndicated with Princeton Features. Her books are "Plants of Paradise" and "Roots, Rocks and Rain: Native Trees of the Florida Keys."