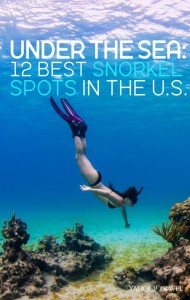 Summer may be slipping away, but you still have time to slip beneath some waves. The best part is — you don't even have to leave the country to do it. Yahoo Travel went in search of easily accessible and interesting places to don fins, mask, and snorkels for a fun day of fish peeping. You might be surprised by just how close to home a few of these are.
New London, Conn.
Ocean Beach Park has something for everyone — a sugar-sand beach, a water park, boardwalk games and attractions, amusement rides, and even an Olympic-size swimming pool. Snorkelers can expect to see schools of sea bass, small urchins, and crabs, but they can also expect chilly water. This week's reported temperatures are in the low 70s; expect that to drop into the upper 60s by September.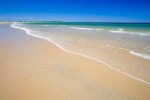 Block Island, R.I. 
This quiet and stunningly beautiful island situated between Montauk and Martha's Vineyard has blissful beaches and water clear enough for snorkeling. The warm Gulf Stream often brings juvenile tropical fish close to shore in this area, making it perfect for possible sightings of colorful fish. Water temperatures are currently a chilly 72 degrees. That will drop into the 60s in the coming months.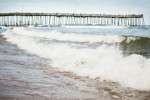 Virginia Beach, Va. 
The water in Virginia Beach might not be crystal clear, but it's still worth the trip. (Photo:Thinkstock)
The Mid-Atlantic States are not often known for superior snorkeling, primarily due to less-than-perfect water clarity. Everybody loves the beaches, but there is not always a good reason to look beneath the waves. Lynnhaven Dive Centerwill not only teach you the correct way to snorkel, but help you find the perfect spot to put your face in the water. Surface water temperatures are currently in the 80-degree range. Expect that to drop into the 70s in September.
Radio Island, N.C.
Mention snorkeling to most Carolinians and they will scoff — there are an abundance of deep-water wrecks that attract scuba divers, but not much for those wanting a peak from the surface. The jetty at Radio Island is the exception. Discovery Diving in Moorehead City provides directions to the jetty where snorkelers can join the shore divers looking for seabass, flounder, and an occasional flash of tropical color. Water temperature is around the 80-degree mark, but prepare for a dip into the 70s soon.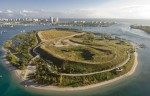 Riviera Beach, Fla. 
Peanut Island is situated in the Intracoastal Waterway, making it one of the most fascinating parks in Florida. The list of ocean-going sea life that you might see here is a long one, and includes squid, rays, octopus, and brilliantly colored tropical fish. The best time for snorkeling is around high tide. The waters here are a comfortable 85-degrees well into September.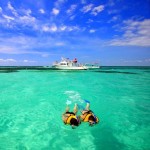 Key Largo, Fla.
Now you are getting to the good stuff. John Pennecamp Coral Reef State Park attracts divers and snorkelers year round. Rent a boat, kayak the mangroves, or take a guided snorkeling tour. The choice is yours! The current water temperature is a toasty 89-degrees. Expect that warmth to slowly dissipate, but remain in the 80s throughout September.
La Jolla, Calif. 
Seals, sea lions, and leopard sharks, oh my! SD Expeditions takes divers and snorkelers to see the best that the area has to offer under water, including docile leopard sharks. Your guide will even teach you the "Sting-ray shuffle" method of entering the water that is safe for both you and the bottom-feeding sea life you can expect to see. The Pacific is currently a chilly 70 degrees at La Jolla, dipping into the mid-60's in September.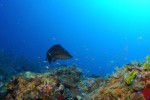 Marathon, Fla.
See the world-famous Sombrero Reef Marine Sanctuary withSpirit Snorkeling. Unlike many dive and snorkeling operations, Spirit takes only snorkelers, freeing them to visit nothing but the shallow spots that provide snorkelers the closest look at the reefs. Expect water temps well into the 80's throughout September and even into October.
Bailey's Harbor, Wis.
Water temperatures that have already fallen into the 60s may make the snorkeling tour offered by Lakeshore Adventures a bit too frigid for all but the hardiest. You may prefer a clear-bottom kayak instead to see the maritime history beneath the waves in Door County, saving snorkeling for next summer.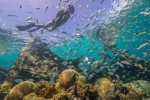 Key West, Fla.
Several beaches on Key West offer fun snorkeling opportunities from shore, but for pristine snorkeling, take the ferry to Dry Tortugas National Park. The wrecks and patchy reef system surrounding the islands of the national park are home to a diverse array of sea life. Current water temperatures are near 90, and should hold in the 80s throughout most of the fall season.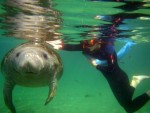 Crystal River, Fla.
If swimming with manatees is not on your bucket list, it should be. It's a little early to see large numbers of manatees, but come September and October, there will be rise in the manatee population. Reputable outfitters can take you to the manatees without disturbing their fragile habitat and provide all the gear you need, including wetsuits. Try RiverVentures, which also offers kayak tours and rentals. The water temperature in the river is a brisk 72 degrees year-round.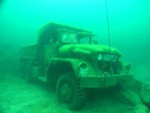 Kankakee, Ill.
For something completely different, try Haigh Quarry, known as the Caribbean of the Midwest. That may be a bit of an exaggeration, but it certainly works in a pinch as a place to stick your head in the water. You will see an odd assortment of old boats and farm equipment and plenty of cold-water fish. The current water temperature at the surface is a comfortable 78 degrees. That will drop rapidly as the days grow shorter.
Catalina Island, Calif.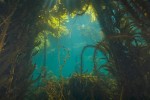 The comparatively warmer waters surrounding Catalina Island bring sub-tropical sea life to the Pacific. The kelp beds are home to seals and sea lions, dolphins, turtles, crustaceans, and vivid orange garibaldi damselfish. Learn how to snorkel and enjoy a guided tour from shore or from a boat with Snorkeling Catalina. The water temperature is a cool 70 degrees well into September.