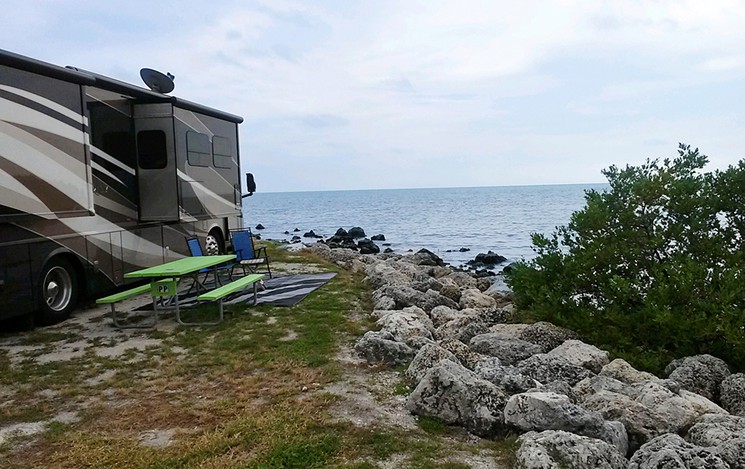 After 65 years of shoveling snow in Iowa, Frank Poma was tired. "You get rid of it," he says, "and then it keeps coming back." So about five years ago, Poma and his wife Cindi bought an RV and headed for Knight's Key RV Resort and Marina, an unpretentious, 24-acre campground on the Atlantic side of Marathon, 45 miles from Key West.
The Pomas quickly became part of a thriving RV community, where snowbirds mingled at theme parties, shared meals at Thanksgiving, and lingered over orange sunsets. The couple would return home in spring, knowing that when they headed back south, they'd find their friends Mike and Dorothy, from Massachusetts, on one side of their RV, and Ray and Sue, from Ohio, in the next lot. "It's a neighborhood," Poma says. "I'd keep coming here forever if they'd let me."
They won't. After a run of more than 50 years, Knight's Key, one of the last remaining old-school, unvarnished accommodations in the Keys, will soon be sold to a high-powered developer who plans to transform the RV campground into a five-star resort. Pritam Singh, the developer, says the plan will energize Marathon's economy, provide infrastructure upgrades, and prove environmentally friendly. But full- and part-time locals like the Pomas are heartbroken. To them, the development signals a loss of not only a campground but also the slightly off-kilter, unrefined, community-oriented character of this section of the Keys that attracted many of them in the first place. "I'm frustrated, and I'm sad," Poma says. "It's a nice place — it's been here for a long time and got a lot of nice people. And now it's going to go away."
Driving the transformation is the Keys' most prominent — and interesting — developer. Now in his early 60s, Singh was born in northern Massachusetts as Paul LaBombard Jr. As a young man, he became a hippie, drifted to Key West, and spent time in jail for protesting the Vietnam War. After a spiritual quest, he converted to Sikhism and adopted a new name, Pritam (meaning "God's beloved") and Singh (for "lion"). He also began wearing a turban, an indication of his compliance with the Sikh practice of never cutting one's hair.
Singh ventured into real estate in Portland, Maine, in the late '70s and quickly became successful at redeveloping derelict properties; in 1986, three days after spotting a newspaper article about a pending auction of an enormous waterfront property in Key West, he flew back to the city he had fallen in love with as a young vagabond and paid $17 million at auction for the 104-acre former naval base.
He eventually turned the Truman Annex into an expansive, immaculately landscaped gated community of upscale townhouses and condos, complete with a Mediterranean-style plaza. It became one of the Conch Republic's most celebrated architectural landmarks.
But throughout the development, the charismatic Singh, billing himself as an "enlightened capitalist," had promised an entirely new kind of real-estate project, with public parks, artist space, and affordable housing.
Some of the promises — like affordable housing — never materialized, and locals began to question just how different Singh's brand of capitalism really was. "He's just a miniature Donald Trump," Stephen Su­rowiecki, the annex's former real-estate broker, told the Miami Herald in 1990 after the project was completed. "It's for the select 1/10 of 1 percent of buyers."
Since then, Singh's influence has ballooned. In addition to projects in the Northeast, California, and New Mexico, his family-run company has completed more than a dozen upscale developments in the Keys, including the Parrot Key Hotel & Resort, the Key West Golf Club, and the Marathon resorts Indigo Reef and Tranquility Bay. He's also donated millions to charity, edited works — after a conversion to Buddhism in the '90s — written by the world-renowned monk Thich Nhat Hanh, and remained an ardent environmentalist, serving on various organizations' boards.
As his projects have transformed much of the Keys, the developments, and Singh himself, have continued inspiring controversy. The developer is a "shrewd capitalist," not a Buddhist, one Key West blogger, Sloan Bashinsky, wrote in 2011. In a brief phone conversation with New Times, Singh defended his developments, highlighting their high-quality design and economic benefit. The projects have "brought in a tremendous amount of people who love coming to the Keys," he said, adding that the area's high cost of building and environmental compliance also necessitates a move to more upscale properties.
Singh became interested in Knight's Key, he says, because of its large size and vast waterfront potential. The developer's preliminary plan for a 199-room waterfront hotel with a restaurant, beach, lazy-river pool, and landscaped central plaza was approved in September by the Marathon City Commission. He's finalizing the sale with the bank (the contract prohibits disclosing the sale amount, he says) and expects to break ground as early as late 2016. "It's a tremendous piece of property to do a really amazing, high-end, very low-density project."
Knight's Key was built in 1966 by a local family, the Kyles. The site has 199 RV sites, including 56 directly on the Atlantic, 14 tent sites, and a small harbor and marina with a boat ramp and fish-cleaning station. The location is prime: just east of the famous Seven Mile Bridge and only five and a half nautical miles from Sombrero Reef, home of some of the best deep-sea fishing and diving in the world.
But several years ago, the Kyles ran into financial trouble and sold; the campground is now controlled by a Plano, Texas-based holding company that's had little incentive for expensive upkeep. These days a section of waterfront is suffering from erosion, and some sites are scraggly and barren. "They're trying to sell it, so they're not putting money into it," one employee says.
Tenants love the place all the same. On a bright afternoon in late October, Matt Nicol, a chatty, brown-haired resident, takes a break from waxing his RV to speak with a reporter. Nicol and his wife Penny own a snowmobile and dogsledding business in northern Ontario, he says, and have been traveling to the Keys for about four years. They visited Knight's Key for the first time only days ago. "We came here and couldn't believe how nice it was," Nicol says. "This place is just really well-looked-after."
Anna McKenna, a chemistry professor from Minnesota walking her two miniature schnauzers, also recently arrived, with her husband Jack. "It's a nice, quiet place where people aren't crammed all in on each other," she says.
"We'd definitely come back," Jack adds.
But even as Knight's Key has remained quiet and quaint, construction around it has been booming. Marathon, with a population of 8,000, is now home to some 25 hotels and resorts, including a Courtyard by Marriott, a Hyatt, and a Holiday Inn Express. The local Florida Keys Country Club, opened in 1960, is being redeveloped to include a hotel and cottages; another big project is underway along Sombrero Beach Road, a wooded, low-density area, to build duplex condos expected to sell for around $600,000 each.
Locals have put up some resistance. When a popular dive bar was being shut down, residents poured into a commission meeting to voice their discontent; ahead of the Sombrero Beach development, a group of 100 or so held a rally on the site, with signs proclaiming, "It's too much." The pending loss of the RV campground hasn't sparked the same level of protest, but some residents — even those who don't see much beauty in a well-worn campground — will still mourn its loss.
"The development symbolizes Marathon becoming a transient community," says Beverly Welber, a Knight's Keyresident and retired publicist. "Marathon used to be just a kind of middle-class place, family-oriented… It makes the town feel different."
Singh says he's sympathetic to the resort's history — "It sounds like it's been a wonderful place" — but argues that a total overhaul is needed. The dock and marina are falling apart, he says, and the site has no sewer or proper drainage system. Worse, he argues, the RV park poses an environmental danger because of oil and antifreeze that leak out of the parked vehicles. "I don't have anything against RVs. I think they're great. The question is 'Can you afford to do it any longer?' " he says, referring to the needed upgrades. "And the answer is no."
Singh promises to provide employment for current Knight's Key workers, as well as include affordable worker housing onsite. He says he'll plant thousands of coconut palms, build hurricane-resistant structures, and implement a modern drainage system. He also argues he has the support of the majority of residents, who are familiar with his previous developments and will welcome the increased tax revenue. The transformation he's driving, he says, is both beneficial and inevitable.
"Has the Keys changed?" he prompts. "Sure. So has Miami Beach."
Poma, the Iowa snow shoveler, has already been out scouting a few other campgrounds. None came close to Knight's Key, he says. The sites are narrower, the people don't seem as friendly, and the rules are stricter. After rumors of the sale began circulating last year, he says, a few Knight's Key regulars advocated all moving together to another park. But that idea isn't realistic. Instead, he says, all of his Knight's Key friends will likely be scattered and their beloved RV community lost.
"I wish it would stay the same here," he sighs. "But hey, it's the way it's all going."
Source: Developer's Plan to Replace RV Park With Five-Star Resort Stirs Fears, Hopes in Keys | Miami New Times