In the Middle and Lower Florida Keys State Parks — Long Key, Curry Hammock, Bahia Honda and Fort Zachary Taylor — are easy to explore and offer multiple opportunities for recreation.
Long Key State Park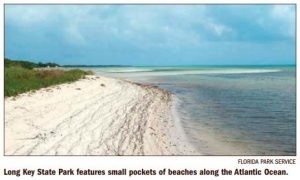 Located on Long Key, just southwest of the town of Layton, this park was once the site of railroad magnate Henry Flagler's Long Key Fishing Camp in the early 20th century. Today, it offers 50 recreational vehicle and six tent-only oceanfront campsites at the once-luxury destination for the rich and famous traveling on Flagler's famed Florida Keys Over-Sea Railroad. Birding is popular along the 1.1-mile-long Golden Orb Trail that leads visitors through five nature areas. Along the trail, white-crowned pigeons and rare Key West quail doves can be spotted. Other attractions include picnic tables with grills, sea kayaks for rent and restrooms with showers. Long Key State Park is located at mile marker 67.4. For more information, call 305-664-4815.
Curry Hammock State Park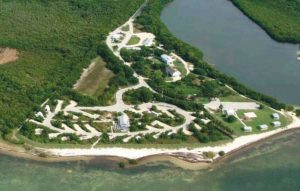 Curry Hammock State Park on Crawl Key offers the largest uninhabited parcel of land between Key Largo and Big Pine Key. Year-round birding is popular there. The park, with a mangrove creek and miles of coastline, preserves essential native ecosystems that include mangrove swamp, rockland hammocks and seagrass beds. Secluded protected waters make the park a popular place to kayak and paddleboard. Curry Hammock is also known as a spot for shallow-water fishing. When conditions are windy, the park's oceanfront is a popular spot to launch windsurfers and kiteboards. The park offers a 28-site oceanfront campground. Hikers can explore a 1.5- mile trail through the park's bayside hammock. Curry Hammock State Park is located at mile marker 56.2. For more information, call 305-289-2690.
Bahia Honda State Park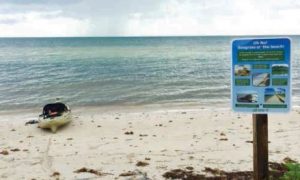 This 500-acre park, located on Bahia Honda Key, features award-winning beaches ideal for kayaking and snorkeling. Flagler's famed railroad helped to transform Bahia Honda Key into a subtropical destination. The original trestle railroad structure, with a highway built on top, is a popular point of interest for visitors. Restoration is underway to add concrete stability and handrails for greater accessibility on steps under the bridge. Work to restore the bridge trail extending over the water also is planned. Part of the bridge's section that's not part of the original Over-Sea Railway remains open, providing sweeping picturesque and panoramic views. The park was named after the deep natural bay, a harbor for sailors, under the bridge. Within the park, a new brick "Walkway to the Sea," is under development by the non-profit Friends of the Bahia Honda State Park. Plans call for a wraparound walkway stretching toward the old Over-Sea Railroad Bridge and its oceanfront channel. Visitors can purchase bricks, priced from $50 at the park's nature center. The park's butterfly garden is home to North American endangered host plants. The park also is a nesting ground for sea turtles, including the hawksbill, and a common place for watching wading birds and shorebirds. Bahia Honda's scenic beaches front both the Atlantic Ocean and the Gulf of Mexico. They include Calusa Beach, adjacent to the Bahia Honda Bridge, and the mile-long Sandspur Beach just north of the park entrance. Overnight visitors can choose from among 80 campsites — 48 sites for both RVs and tents and 32 tent-only sites — and six cabins on stilts. Other park amenities include pavilions, freshwater showers, restrooms, grills, picnic tables, beach wheelchairs and a Mobi floating chair for in-water accessibility. An on-site concession and gift shop has a variety of food, souvenirs and beachwear. Kayaks and bikes are available for rent. Concessionaire Coral Reef Park Co. offers daily snorkel trips to the reef at Looe Key. Bahia Honda State Park is located at mile marker 37. For more information, call 305-872-2353. To reserve bayside cabins up to 11 months in advance, visit floridastateparks. reserveamerica.com or call 800-326-3521.
Fort Zachary Taylor Historic State Park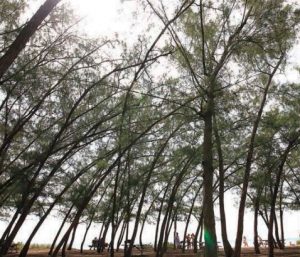 Florida's southernmost 56-acre state park in Key West is a popular beach park, offering snorkeling, swimming, picnicking, fishing and nature trails. Fort Zachary Taylor was built from 1845 to 1866, one of 47 built to defend the nation's southeastern coastline. The fort, named after President Zachary Taylor, played important roles in Civil War and SpanishAmerican War history. It was designated a National Historic Landmark in 1973. At the park, Mote Marine Laboratory is undertaking coral restoration efforts by out-planting more than 5,500 corals that began in summer 2016. The corals are planted in 10 to 15 feet of water about 20 feet beyond a breakwater off the park's beach. A beachfront Cayo Hueso Cafe offers a variety of snacks, beach sundries, souvenirs, snacks and sandwiches. Snorkel and water gear, lockers and beach chairs can be rented. Fort Zachary Taylor State Park is located at 601 Howard England Way. Visit fortzacharytaylor.com or call 305-292-6713.