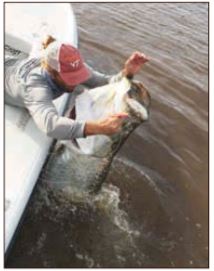 An organization focused on conserving and restoring bonefish, tarpon and permit populations through research and education has brought on a new leader to oversee its local efforts on the island chain. Last month, Ross Boucek, a Naples native, was hired as the Florida Keys initiative manager for the non-profit Bonefish & Tarpon Trust  based in Coral Gables . He replaces Brooke Black, who stepped down from her role on June 1 but will continue to work with BTT to some degree. "It's a dream come true to be in the Keys with BTT, and I thank my predecessor for setting such a great foundation of work for me to build on," Boucek told the Free Press last week. "I can't wait to start working with the community on improving the flats fisheries here."
Aaron Adams, BTT director of science and conservation, says Boucek is a major plus on the team. "Over the years he has matured as a scientist and he has that unique skill set of being that and a fisherman that is needed for this organization," Adams said. Adams and Boucek have a bit of a history together, predating their time with BTT. Boucek went to Virginia Tech, where his undergraduate focus was fisheries science. While there, during two summers, he worked with Adams on research projects. One was on the impacts to juvenile snook in healthy and unhealthy freshwater tributaries. Another was on the impacts to spawning adult snook near beaches and the extent to which they return each year. After Boucek got his bachelor's degree, he came back to South Florida to work on his master's and doctorate degrees at Florida International University. Both were concentrated in the discipline of fish ecology.
During that time, he worked with Jennifer Rehage, a fish ecologist and associate professor at FIU, studying the movement patterns of snook affected by freshwater flow related to Everglades restoration. That work could prove to be quite beneficial with his position at BTT. "Snook characteristics often overlap with juvenile tarpon," Boucek said. After finishing his graduate degrees, but before coming on with BTT, Boucek landed a job with the Fish and Wildlife Research Institute in St. Petersburg. It's the research arm of the Florida Fish and Wildlife Conservation Commission. While there, his work revolved around the migration of a wide range of fish and relating it to harvesting boundaries. In his role with BTT, Boucek said he has three initiatives to focus on.
The first, partnered through a program with FIU, is to locate and study populations of juvenile bonefish in local waters — the species has declined around 90 percent over the past two decades, according to some studies. Researchers believe that is due to degraded water quality. "We know some [populations] are out there, we're just not sure where yet," Boucek said.
The second will be an Flats fisheries group has new manager for Keys ongoing effort to educate the public on boat etiquette. Boucek believes that to be a major factor in preventing further degradation of the highly profitable flats fisheries habitat in the Keys.
The third, and likely hardest to accomplish, is to find ways to fast track projects related to Everglades and Florida Bay restoration. Boucek admits that a lot of his initial ideas since joining BTT have been shot down, but it hasn't deterred him yet.
Aside from those initiatives, Boucek, an avid angler himself, said he will spend time working with the local fishing community. "You have to really get integrated into that group of people with this job," Boucek said. "They already know firsthand what's going on. I have to learn from them."
Boucek said he spends about 70 percent of his time in the BTT office, which is now based in Marathon after relocating from Key Largo, and the other 30 percent on the water. He can be reached at .
bbowden@keysnews. com