Florida's 171 state parks vary in the natural and cultural resources that they have to offer. Many of them have at least one unique feature, and some of these are easy to miss. Pennekamp Park. The Florida Keys are an island chain surrounded by saltwater. Finding freshwater has always been a concern. Freshwater holes were likely enough for the early Keys inhabitants, and cisterns were later used to collect rainwater. With an increasing population, other solutions included water shipped by railroad tanks, desalination plants and a pipeline from the mainland. Another source were artesian wells, which are underground aquifers that naturally push their water to the surface.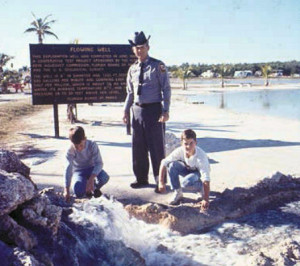 While the majority of the population was in the Lower Keys, following World War II, more people became interested in living in Key Largo. A flowing artesian well, which exists in John Pennekamp Coral Reef State Park, was explored in the early 1960s as a possible source of fresh water. (It was a cooperative project between the Florida Keys Aqueduct Commission, the U.S. Geological Survey and the Florida Board of Parks.) The 1965 project report described the well as 6 inches in diameter, 1,333 feet deep, flowing at a rate of 580 gallons per minute, and about one-sixth as salty as seawater. The reported average temperature was 81 degrees F and the surface pressure measured 38 to 39 feet above sea level.
Much of what is now park land was used by early Key Largo settlers for mostly farming activities. In the early 1960s, when the land was cleared for the park, the artesian well was quite visible near the camping area. In the older photo shown, circa late 1960s, then-Park Manager Johnny Johnston is standing by the well with who are believed to be his sons. The well created a pond, which then made a small creek, and it still flows into the marina.
The brackish-water creek is a perfect habitat for the mangroves now growing there. Today, this well is not visible to many visitors in the park, since the tropical hardwood forest has grown immensely on the higher ground. The pond is almost consumed by mangroves. Park staff have built a walkway over the wetland area so visitors can easily view the flowing well. The second photograph, taken recently, shows the mineral deposits left by the water on the rock. This unique part of the real Florida is accessible to day visitors by taking a path across from the dive shop, heading west. Park in the Wild Tamarind Trail lot.
Plan your trip today by visiting floridastateparks.org. Elena Muratori is a park services specialist at John Pennekamp Coral Reef State Park.