Writer/musician/playwright Ben Harrison tells the true macabre story of Key West's own "Count" Carl von Cosel and his passion that defied death, for an episode titled "Grand Gestures". Von Cosel achieved international fame in 1940 when the corpse of his true love (and former tuberculosis patient) Elena Milagro Hoyos was discovered in his secluded house on Flagler Ave., where he'd kept her preserved for seven long and amorous years. In 1997 Harrison penned the definitive account of this bizarre story in his nonfiction book, Undying Love: The True Story of a Passion That Defied Death
.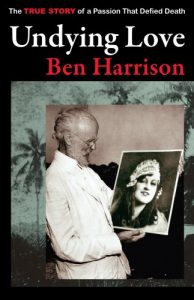 Also released this month will be the unabridged audio production of the book, and on Valentine's Day 2018, he will bring the revised stage version back to life at The Studios of Key West. Originally performed in 1999, Undying Love: The Musical features original tunes like "She Was Pickled and He Poked Her" alongside the haunting "La Boda Negra" (Black Wedding), which von Cosel claimed Elena sang to him from the crypt.
Harrison's musical distills the atmosphere of Key West in the 1930's and perfectly melds his signature dry humor with the pathos of von Cosel's tale. Veteran Director Richard Grusin and Musical Director Larry Baeder will lead the production, details of which can be found on The Studios' website.
"Perhaps the strangest thing about von Cosel's story – and that's saying a lot – is that the public at large heard it and decided it was a love story," says Harrison. "So it's only fitting that the radio show's coming out just before Valentine's Day."
Source: Key West's Strangest Love Story
Karl Tanzler, also known as Count Carl von Cosel, was a radiologist in Key West, Florida who developed an obsession for one of his patients, Elena Milagro Hoyos. The beautiful young woman died from tuberculosis in 1931. With her parents' permission von Cosel had an above ground mausoleum built for her. He visited the tomb every night and by 1933 he had taken the body home. In writing this definitive and mesmerizing tale of the most obsessive love imaginable, Ben Harrison did his homework thoroughly, studying numerous press accounts from the 1930s as well as the von Cosel memoir.
What makes Undying Love so special are the interviews Ben conducted with those old enough to have known the story participants and the way things were in Key West during the 1930s. One of his better discoveries was a song, La Boda Negra, The Black Wedding, which Count von Cosel claimed Elena sang to him from the elaborate crypt he had built for her in the Catholic section of the Key West cemetery. The lyric made it unmistakably clear. She wanted to come home with him. Above the coffin of Elena Hoyos, a black crucifix inexplicably glowed with a soft light as Count Carl von Cosel extracted the inner casket from the outer one. With difficulty, because the caskets were heavy, he pushed, shoved, pulled and maneuvered the inner one onto the grass outside the tomb, closed and locked the tomb door. Their remarkable journey was about to begin… The book also includes eight pages of compelling, unforgettable photos.
Editorial Reviews Undying Love
This story has it all. Obsession, madness, even a sweet May-December romance. —Florida Sun Sentinel
Too strange to be fiction tale. —Honolulu Advertiser
Ben Harrison separates fact from myth and untangles the thread of intrigue in this gothic tale of obsessive love and melancholy madness. – —Danny Elfman, film score composer for Edward Scissorhands, Men in Black, Good Will Hunting and Spiderman; and Grammy award winner for the Tim Burton film Batman and Emmy winner for the Desperate Housewives theme.