For travelers seeking "voluntourism" opportunities to help sustain the continental United States' only living coral barrier reef, the "Florida Keys Superfan" eco-adventure giveaway offers an enticing prize.
One entrant is to win a five-night vacation that includes accommodations, eco-attractions and diving experiences to plant corals.
The winner is to discover how divers can serve as stewards of the world's oceans and connect and protect the dynamic ecosystem and reefs of the Florida Keys.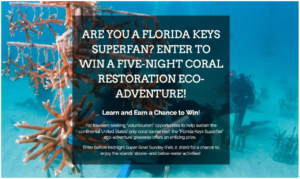 The "Florida Keys Superfan" eco-adventure winner is to work with marine scientists from Key Largo's Coral Restoration Foundation as well as Mote Marine's field station on Summerland Key.
Working dives to coral nurseries include cleaning and preparing corals for planting. An orientation dive at a restoration site shows firsthand the evolution of corals over time.
The entry period is open from 9 a.m. (ET) Wednesday, Jan. 15, through 11:59 p.m. (ET) Super Bowl Sunday, Feb. 2, 2020.
Simply "like" or "follow" the Florida Keys' Facebook page @floridakeysandkeywest, and click the page's "Florida Keys Superfan" contest link to enter to win the five-night trip for two to the Keys and enjoy the island chain's above- and below-water activities.
Instagram followers can find the "Florida Keys Superfan" trip giveaway entry at the link in the bio @thefloridakeys. Twitter users can find the link pinned at the top of the @thefloridakeys profile.
Entrants can answer Keys-related questions and share the contest link with friends on social media.
The winner (and a guest) can experience Key Largo, Marathon, the Lower Keys and Key West regions. The prize includes certificates toward air travel and car rental, five nights' waterfront accommodations for two at Key Largo's sustainable Baker's Cay Resort, coral reef diving trips, admission and an educational tour for two at Marathon's Turtle Hospital, admission and an in-water Coral Reef Snorkel Encounter for two at Florida Keys Aquarium Encounters and two VIP passes to dozens of Key West attractions. The prize value is just under $5,000.
Travel dates are June 1 through Dec. 31, 2020, and blackout dates do apply.
One entry per person per email address is valid. Entrants must be at least 21 years of age at the time of entry and must reside in the United States. Entries cannot be accepted after 11:59 p.m. (ET) Sunday, Feb. 2, 2020.
A randomly selected winner is to be notified by email no later than Feb. 7, 2020.
Florida Keys sustainability information: fla-keys.com/sustain
Source: Enter by Super Bowl Sunday to Win a 'Florida Keys Superfan' Coral Reef Restoration Eco-Adventure | Florida Keys Newsroom