Sorry, this Florida Keys island, Indian Key, isn't for sale. But you can visit and explore this historic site.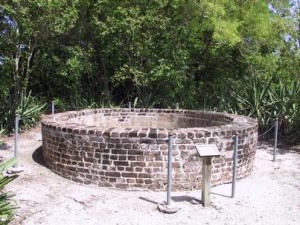 Hours: 
The park is open from 8:00 a.m. until sundown, 365 days a year.
Fees: 
Admission Fee:  
$2.50 *per person. *Includes $.50 per person Monroe County Surcharge.
Early Indian Key History
Beginning in the 18th century, Bahamians and Cubans used Indian Key as a base for fishing, turtling, logging and wrecking. Crews might stay on the island for months at a time, but there were no permanent settlers.
From KeysHistory.org
Since the first federal census was not until 1830, we do not have a definite picture of Indian Key's original inhabitants, but the following is a summary based on early Key West court records. Silas Fletcher settled on Indian Key in April 1824 to sell goods to mariners for Solomon Snyder and Joshua Appleby of Key Vaca. It was decided to build a house and a store, for which, a Joseph Prince was hired as an assistant. Silas, his wife Avis, and two children, William and Abigail, used the house. 
Evidently, Silas and Prince formed a partnership and purchased the holdings of Snyder and Appleby in January 1825. For reasons unknown, Joe Prince decided to leave a few months later (May) and according to Silas Fletcher, Joe Prince sold to him his half of the partnership's business interests. Later Silas purchased from Prince the building that housed the store. 
Silas did not have a commercial monopoly for long, as Joe Prince returned in 1826 and opened a competing store. This indicated that there was enough business on Indian Key for two stores. Remember that all of this happened some 65 years before Miami was incorporated. Key West was incorporated in 1828 and had a U.S. Superior Court. Silas Fletcher sold all his Indian Key property to Thomas Gibson for $2,500 and departed Indian Key in 1826. All of these property transactions are recorded in Monroe County Deed Books A, B and C in Key West. No other island name other than Indian Key is mentioned. Prince and Gibson are shown in the 1830 census, and Fletcher is not, as should be.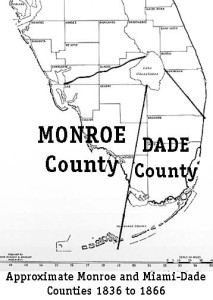 In 1836, Indian Key became the first county seat for Dade County, which included almost all of South Florida, including the Upper and Middle Florida Keys.
In December of 1838, Dr. Henry Perrine moved to Indian Key with his family to await the end of the Second Seminole War (1835-1842). Perrine wanted to use a government grant to cultivate useful tropical plants on the mainland. In 1840 the island was attacked by the Seminoles. Except for one building, all the structures on Indian Key were destroyed. Dr. Perrine was killed but many inhabitants, including Housman, managed to escape. Today, only stone foundations remain.
Today 
Immerse yourself in the long ago ways of the wrecking industry.  This 11-acre island is only accessable by boat and is deserted except for the ruins of a town that existed in the early 1800s, when folks made their living salvaging boats that ran aground on local reefs. Get adventurous, take a boat ride, or rent a kayak to visit and experience our warm, tropical sunshine and unique maritime history.
Indian Key is easily accessible by kayak or boat from U.S. Highway 1. The island offers an abundance of terrestrial and aquatic wildlife while the perimeter of the island provides one of the few nearshore areas for snorkelers to view coral.
Guided tour are available through Historic Upper Keys Walking Tours with locally famed Historian Brad Bertelli at: (link is external)
Please remember to bring along sun block, plenty of fluids and a diver-down flag for any snorkeling activities
Indian Key Activities
Indian Key – Boating
Visitors can rent powerboats and kayaks from "Robbie's Marina" or a number of other local marinas. Knowledge of the channels is critical because of the surrounding shallow grass flats. Kayaks and canoes can float across most flats, offering spectacular chances to see a variety of wildlife from dolphins and manatees to sharks and rays.
Indian Key – Canoeing and Kayaking
Visitors may currently access the island by canoe or kayak.
Indian Key – Fishing
Anglers can fish for a variety of species from bonefish on the flats, to tarpon in the channels. Snapper, Spanish mackerel and snook are also found in the area. No fishing is permitted within 100 feet of the dock.
All fishing within the park must conform to regulations concerning size, number, method of capture and season.  A fishing license may be required.  More information is available at the Florida Wildlife Commission's Fishing in Florida.
Indian Key – Hiking Nature Trail
Visitors may explore the island and learn about its unique past by following the re-created street system. This interpretive trail takes you through the historic community of Indian Key, the first county seat of Dade County.
Essential Eligibility Criteria
Ranger-led or Self-guided Walking Tour
In order to participate in this program, one:
Must have ability to board and disembark from boat transportation independently or with the assistance of a companion and/or with the use of adaptive equipment.
Must have ability to traverse trail terrain independently or with the assistance of a companion for approximately 1/3-mile or 1,896 feet.
Must have the ability to tolerate warm to hot humid temperatures.
Must have the ability to follow verbal and/or visual instructions independently or with the assistance of a companion.
Must have the ability to withstand exposure to the outdoors for a period of approximately 1½ hours.
Indian Key – Snorkeling
Some local marinas, as well as "Robbie's Marina," offer Eco-tours that involve brief stops at the island and snorkeling in the area around the island and out on the reef. Remember, all snorkeling requires a 'Diver-Down' flag. All snorkeling must be conducted at least 100 feet from the dock at all times.
Indian Key – Wildlife Viewing
A variety of shore and wading birds may be viewed on the island.