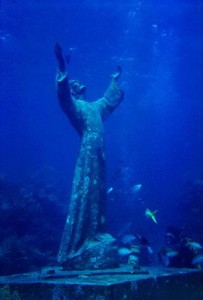 Do you know how many parks there are in the Upper Florida Keys? Me neither. Between the City Parks: Islamorada's Founders Park and Anne's Beach, Monroe County Parks: Harry Harris, Florida State Parks: John Pennekamp and Lignumvitae and the National Parks-Refuges-Sanctuaries: Everglades, Crocodile Lake and the all encompassing Florida Keys National Marine Sanctuary, you are never far from a park. This provides more venues to enjoy then most could do in an average vacation. Following are some items to add to your Upper Florida Keys bucket list to keep you on track.
Head out on the water, in a kayak or paddle board or other water craft, at dawn (launch points include Islamorada's Anne's Beach or Key Largo's Harry Harris Park) or just before sunset (launch points include Islamorada's Indian Key Fill or Key Largo's Blackwater Sound at the Caribbean Club), when the sea and the sky meet in a mirrored glaze and the light is otherworldly. Drift along quietly enjoying the changing colors and the aquatic and winged creatures.
Snorkel at the many patch reef in Key Largo's John Pennekamp Park and around Islamorada's Alligator Reef Light. Snorkeling can be managed by almost anyone and is a most peaceful way to enjoy the reef and all the aquatic wildlife. Keep your eyes peeled for sea turtles, spotted eagle rays, and of course, if your lucky sharks. (Don't worry, you're not on their menu).
Kayak or stand-up paddle along the mangroves- the world's third largest ecosystem. Visit the many watercraft shops for advise on their favorite Mangrove Tunnels to explore or tag along on some guided tours. If you're quiet enough you'll see many of 250 species of birds as they roost, hunt, or wade in our coastal paradise.
Go fishing for bonefish, tarpon, trout, redfish and snapper in the backcountry waters or grouper, mackerel, dolphin, wahoo and tuna on the Atlantic Ocean.
Take one of the many Eco-Tours into the backcountry and Everglades Park and you may see manatee, dolphin, osprey, pelican, crocodile and so much more.
Visit one of the dolphin encounter organizations such as Islamorada's Theater of the Sea or Key Largo's Dolphins Plus. You can touch and interact with a dolphin while swimming around the lagoon.
Volunteer to build a stone house for the endangered Key Largo wood rat at Key Largo's Crocodile Lake NWR.
Of course you have to eat and there are so many great places to eat. They include long time restaurants like Islamorada Fish Company, Green Turtle Inn, and Key Largo's Mrs Mac's Kitchen, Harriette's Restaurant and The Fish House. Of course you must try some of the newer restaurants like Chef Michael's, Kaiyo Grill & Sushi, Key Largo Conch House, Num-Thai & Sushi Bar Restaurant, and Key Largo Fisheries Backyard Cafe. Just remember to try as many as possible.
The nightlife heavily favors island motifs and music but there are many varied choices for you to enjoy no matter what your preferences. Some can't miss locations include Key Largo's Caribbean Club, Jimmy Johnson's Big Chill, and Snappers Islamorada's Tiki Bar At Holiday Isle, Lorelei Restaurant & Cabana Bar, Hog Heaven Sports Bar and Grill.
Take a trip on the glassbottom boat, Spirit of Pennekamp. At 65 feet in length, this high-speed catamaran will transport you to various locations within John Pennekamp park to view the reef while staying dry.