Florida's unemployment rate was 4.5 percent in April 2016, down 0.2 percentage point from the March 2016 rate of 4.7 percent, and down 0.7 percentage point from 5.2 percent a year ago.  The U.S. unemployment rate was 4.7 percent in April.  Florida's unemployment rate has been less than or equal to the national rate for 26 of the last 41 months. What does all this have to do with the Florida Keys Job Market you ask? Keep reading below and find out.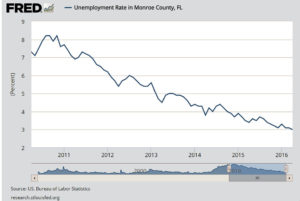 In April 2016, Monroe County had the state's lowest unemployment rate 3.0 percent.
What does this mean for the Florida Keys Job Market? Employers are continuing to have a typically difficult time finding employees. Add the Florida Keys high cost of living and housing and you will see why Florida Keys employers work so hard to find and keep good employees.
Employers are having a hard time finding full time or year round employees. Many people are looking to work summers or to pay for extended vacations. In most cases the Employers would like to find steady year round help and offer full benefits. While many positions are in the construction and service industry, there is plenty of advancement opportunities if you are willing to put in your time. The principal industry is tourism. Estimates show 2003 visitor counts increases to 2.3 million visiting Key West and 3.4 million visiting at least some part of the Florida Keys.
Many Florida Keys Employers list Jobs on their own websites. Florida Keys Treasures constantly searches the Internet to compile the most complete listings of these Florida Keys Jobs. They are grouped by region as follows:
Keys Wide Job Listings Employment listings for businesses that have job locations throughout the Florida Keys.
Upper Keys Job Listings Employment listings for businesses in the Upper Keys including Key Largo, Tavernier and Islamorada.
Middle Keys Job Listings Employment listings for businesses in the Middle Keys including Layton, Long Key, Key Colony Beach and Marathon.
Lower Keys Job Listings Employment listings for businesses in the Lower Keys including Big Pine Key, Summerland Key, SugarLoaf Key and Key West.
If you are really interested in Florida Keys Jobs then you must check back frequently.