There are still many individuals, businesses, and local governments Still Waiting on Funding for damages caused by Hurricane Irma in September 2017.
Two years after Hurricane Irma barreled into the Florida Keys, some neighborhoods still show obvious signs of the aftermath of Category Four storm that leveled homes and sent boats from the water into backyards. Big Pine Key was among the most devastated areas. And for many here, the Spotlight on America team found, it still feels that way. Bob Swierkos, whose parent's home was destroyed by Irma, explained, "Sometimes you wonder if people really understand if they're far away what you're still going through down here. If you're not here, well, that's two years ago, they gotta be all recovered. But as you can see driving up and down these roads, it's far from what it was like before the hurricane."
Swierkos, who lives in Michigan, was back in Monroe County, where the Keys are located, for the first time since 2017. He was here in his continued effort to rebuild his parent's home and the family RV park that operated next door. Irma leveled the entire block, but you can still see the haunting remains of what once stood here two years later. Kitchen floors, laid out one after another, sit in the space once occupied by homes. For him, rebuilding has been a battle. Still Waiting on Funding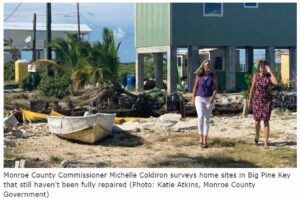 In many cases we discovered, it's the government itself causing those recovery roadblocks because of red tape. Because while many people assume disaster recovery funding is issued immediately to impacted communities, Monroe County Commissioner Michelle Coldiron told us the process is incredibly slow, "There's nothing fast about it." Despite visible signs of the challenges of the rebuilding, Coldiron remained relentlessly positive as she drove us through Big Pine Key. She explained that residents and leaders had shown tremendous drive and spirit during the process.
FEMA officials say the long process ensures taxpayer money is not only being spent appropriately but also in a way that helps communities rebuild in the smartest fashion following a natural disaster like a hurricane. Chris Smith with FEMA's Office of Response and Recovery says, "Recovery is a slow process but it's not necessarily delayed because of the systems. It's delayed because it's just a long process." Still Waiting on Funding
County leaders like Michelle Coldiron aren't the only ones counting every day. Property owners like Bob Swierkos have been frustrated by slow progress. As his county battles for funding, he knows his neighbors are battling insurance to get their homes back to where they were pre-Irma. He's still waging a fight over county codes in his quest to rebuild his family's home and RV park. Still Waiting on Funding
Click here for more info and photos in the original article at wjla.com