During the summer of 2015, we joined our queen conch researchers for a day of surveying in the Florida Keys! FWC's queen conch research program has been surveying queen conch throughout the Florida Keys since 1987, and they perform yearly surveys in order to determine trends in the recovery of Florida's queen conch population. We hope you enjoy our video, and to learn more about the fieldwork being done in the Keys please check out our Flickr set: http://bit.ly/1GZjvfn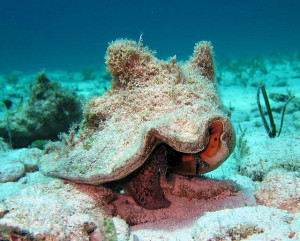 Lobatus gigas, originally known as Strombus gigas, commonly known as the queen conch, is a species of large edible sea snail, a marine gastropod mollusc in the family of true conches, the Strombidae. This species is one of the largest molluscs native to the tropical northwestern Atlantic, from Bermuda to Brazil, reaching up to 35.2 centimetres (13.9 in) in shell length.
The queen conch is herbivorous and lives in seagrass beds, although its exact habitat varies by development stage. The adult animal has a very large, solid and heavy shell, with knob-like spines on the shoulder, a flared thick, outer lip and a characteristic pink-coloured aperture (opening). The flared lip is absent in younger specimens. The external anatomy of the soft parts of L. gigas is similar to that of other snails in its family; it has a long snout, two eyestalks with well-developed eyes, additional sensory tentacles, a strong foot and a corneous, sickle-shaped operculum.
The shell and soft parts of living L. gigas serve as a home to several different kinds of commensal animals, including slipper snails, porcelain crabs and cardinalfish. Its parasites include coccidians. The queen conch is hunted and eaten by several species of large predatory sea snails, and also by starfish, crustaceans and vertebrates (fish, sea turtles and humans). Its shell is sold as a souvenir and used as a decorative object. Historically, Native Americans and indigenous Caribbean peoples used parts of the shell to create various tools.
International trade in queen conch is regulated under the Convention on International Trade in Endangered Species of Wild Fauna and Flora (CITES) agreement, in which it is listed as Strombus gigas. This species is not endangered in the Caribbean as a whole, but is commercially threatened in numerous areas, largely due to extreme overfishing.