Calm summer seas in the Florida Keys mean easygoing and easy-on-the-environment watersports powered by people or the rays of the sun.
This year the National Oceanic and Atmospheric Administration's Office of National Marine Sanctuaries is hosting its fifth national "Get into Your Sanctuary Days" celebration Aug. 2-4, 2019, to raise awareness through a series of special activities about the value of national marine sanctuaries as iconic destinations for responsible recreation.
Whether you're already an avid outdoors person looking for a new adventure or you've never been kayaking, fishing or taken advantage of an amazing underwater park, this weekend is for you.
NOAA's Florida Keys National Marine Sanctuary is to host a Get Into Your Sanctuary Eco Fair from 11 a.m. to 2 p.m. Saturday, Aug. 3, at Key West's Eco Discovery Center at 35 East Quay Road. Families and ocean lovers of all ages can learn about the sanctuary's underwater habitats and animals, coral reef restoration efforts and how to responsibly enjoy the marine environment that drives the Florida Keys' unique way of life.
Upper Florida Keys Suggestions For Your Bucket List
The fair is open to the public and admission is free. Please note that the event is weather dependent. Visit https://floridakeys.noaa.gov/.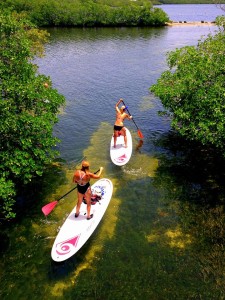 Summer months in the Florida Keys feature warm, clear waters that make for comfortable exploration of the intriguing natural environment. Standup paddling or paddleboarding is surging in popularity among visitors attracted to the island chain as an active-lifestyle destination.
Paired well with other "unplugged" on-the-water relaxation like kayaking, paddleboarding appeals to a diverse cross-section of people. Board sales and rentals are featured at nearly every watersports and outdoor outfitter throughout the island chain and boards are included in the amenities at some Keys resorts.
The long boards can be used as a fishing platform or just quietly enjoying secluded eco-tours through the backcountry flats. Nighttime paddling trips through shallow Florida Bay waters are enhanced by innovative see-through paddleboards and glass-bottom kayaks equipped with waterproof LED light bars that illuminate the underwater environment.
The Basics to Kayak Lobstering
Also powered purely by human effort, hydrobikes are making their way into the Florida Keys. Average cruising speed is about 4 to 6 mph as cyclists on the stable, pedal-powered nonmotorized water bikes cruise calm waters — perhaps with a break to snorkel in an enticing spot.
Guided and unguided tours are offered by Islamorada's Islander Girl Snorkel and Tours, located inside the Islander Resort in Islamorada at mile marker 82, and Key West Hydrobikes, whose tours depart from LagerHeads at 0 Simonton St.

Visitors taking a dolphin watch and snorkel tour with Honest Eco Sustainable Nature Tours have a new eco-friendly option: SQUID, Key West's first electric-powered charter boat. SQUID is a lithium ion battery–powered hybrid charter boat with electric motors for four-hour dolphin watching and snorkeling tours.
The solar-powered boat's electricity stores can be recharged at shore through Sunflare solar panels or, when necessary, a diesel generator. The boat burns three gallons of diesel fuel per trip, or about one-quarter gallon of fossil fuel per guest. SQUID gives passengers an extraordinary wildlife experience while having minimal impact on the environment.
For information about other eco-friendly opportunities and activities in the Florida Keys, visit fla-keys.com/sustain/.