New Orleans might have its jazz and Memphis its blues, but Key West is home to a musical art form all its own: conch shell blowing. Everyone from novices to "pucker pros" can attempt to prove their prowess at the offbeat skill during the island city's 56th annual Conch Shell Blowing Contest, scheduled at noon Saturday, March 3.
The conch, pronounced "konk," is a sturdy sea mollusk that's firmly entwined in Key West's heritage. In the 19th century, when the island's economy was largely based on salvaging cargoes from sinking ships, seafarers used the conch's fluted pink-lined shells as signaling devices, blowing piercing blasts to attract attention.
Today the conch's unmusical blast still attracts attention, particularly during the annual Conch Shell Blowing Contest. Traditionally held in the lush garden of Key West's Oldest House Museum, 322 Duval St., the quirky competition usually attracts several dozen entrants and a standing-room-only crowd of spectators.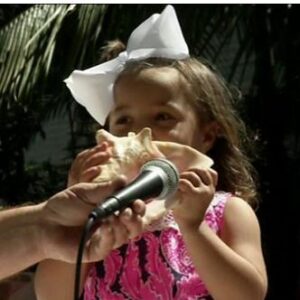 Participants typically range from young children to seniors to groups, competing in multiple categories to see who can coax the most impressive sounds from their "instrument." Luckily, judges aren't seeking true musical talent — instead selecting winners based on the quality, duration, loudness and novelty of the sounds produced.
Key West's "conch connection" goes far beyond instrumental uses of the mollusk's shell. Native-born residents refer to themselves as Conchs, conch chowder and conch fritters are beloved island dishes and the Florida Keys island chain is known as the Conch Republic.
The Conch Shell Blowing Contest is free to enter and watch. Registration takes place before the event in the garden at the Oldest House.
The annual challenge is presented by the Old Island Restoration Foundation, a nonprofit organization dedicated to preserving Key West's rich architectural and cultural heritage.
Event information: oirf.org or 305-294-9501
Source: Key West's Conch Shell Blowing Contest to Test 'Mollusk Musicianship' | Florida Keys Newsroom