Runners of all ages are attracted to a unique scenic bridge race above the Upper Florida Keys and the eastern edges of the Florida Everglades. The annual First State Bank Key Largo Bridge Run is scheduled Saturday, Nov. 9, 2019.
The 2019 event features a half-marathon and a 4-mile run/walk.
The USA Track & Field–certified course is to start at the access road at Gilbert's Resort, mile marker 107.9. Runners traverse the panoramic 65-foot-high Jewfish Creek Bridge — considered the entryway to the Florida Keys — part of the Overseas Highway that connects mainland South Florida to Key Largo.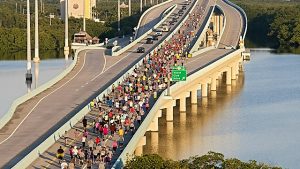 Runners can pick up race packets between 10 a.m. and 6 p.m. Friday, Nov. 8, at First State Bank in Key Largo, mile marker 97. Packets are to be available on the morning of the race beginning at 5 a.m. at the starting line at Gilbert's Resort access road.
A kick-off "Pastalooza" dinner is planned for 5-8 p.m. Friday evening at Doc's Diner, mile marker 99 bayside. Tickets are to be available for purchase in advance online at keylargobridgerun.com for $20 per person ($25 on the day of the event).
Shuttle transportation is to run between participating Key Largo hotels and the starting line on the morning of the race. Half-marathon runners start at 6 a.m. and 4-mile racers begin at 7 a.m. Competitors are to occupy the southbound lanes of the bridge.
All racers end at Rowell's Waterfront Park, mile marker 104.5 bayside in Key Largo.
Awards are to be presented to the overall top three male and female finishers, overall masters male and female finishers and the top three finishers in different age groups. All runners receive a medal upon completion.
New this year, participants are given the option to personalize their Key Largo Bridge Run medal at the post-race party as a lasting memory of their accomplishment, according to organizers.
Registrants can select medal engraving when registering for the race for an additional fee of $20. Participants that have already registered can log on to the race website, add the medal engraving option and pay the fee.
Nonrefundable Key Largo Bridge Run race entry fees are $90 per person for the half-marathon. Special pricing for run clubs is available. Entry fee for the 4-mile run/walk is $35 per person ($30 for entrants ages 17 and under). Online registration is open and the first 1,000 registrants receive a T-shirt. Prices increase Oct. 10, 2019.
Event information and registration: keylargobridgerun.com
Key Largo visitor information: fla-keys.com/keylargo or 800-822-1088