One of the largest fun Dolphin Fish tournaments in the Middle Keys, the 13th annual Tom Thumb Marathon Offshore Bull and Cow Dolphin Tournament, is to challenge anglers Thursday through Sunday, May 2-5, in Marathon.
A grand prize of $10,000 cash is to go to the team with the largest combined weight of a bull and a cow dolphin fish. However, the top prize payout grows as more boats register.
With a field of 60 to 69 boats, the first-place cash award is to be $13,000, increasing incrementally by 10 boats. If a field of 100 boats is reached, the first-place cash prize can reach $25,000.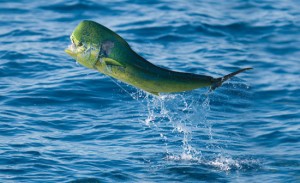 Prizes are awarded for the largest dolphin fish, heaviest combined weight of three dolphin fish and for the largest wahoo, blackfin tuna and tripletail. Other awards recognize the top female angler, junior angler, largest dolphin caught on fly and more.
Final registration and captains meeting for the Bull and Cow is set for 7-9 p.m. Friday, May 3, at the new Isla Bella Beach Resort, 1 Knights Key Blvd. in Marathon.
Fishing is scheduled from 8 a.m. to 3:30 p.m. Saturday and Sunday, May 4-5. Weigh-in each day is set for 4-6 p.m. at the resort's Manatee Bay Marina, and an awards banquet is to follow Sunday's fishing in the Conference Banquet Hall.
On or before April 18, the tournament registration fee is $675 per team of up to six anglers. On or after April 19, cost to register a team is $775.
Boats registered for the Tom Thumb Marathon Offshore Bull and Cow Dolphin Tournament also can enter a separate Shelter Bay Marine Pre-Fish Tournament, a one-day event from 8 a.m. to 5 p.m. Friday, May 3.
Registration is $200 per boat for this fun day. A kick-off party and final registration is set for Thursday, May 2, at Florida Keys Aquarium Encounters at 11710 Overseas Highway bayside.
Tournament information and registration: bullandcowtournament.com