One of two mainland men who hogtied three Key Deer and put them in the back of a car in July serving a year sentence in federal prison is due in state court next month to plead guilty to state charges. Erik Yosany Damas Acosta, 18, of Miami Gardens, and Tumani Anthony Younge, 23, of Tamarac, were both sentenced in November to one federal count of violating the federal Endangered Species Act. Acosta got a year in federal prison and Younge was sentenced to two years of supervised release.
While the men were hit with the federal charge, Monroe County State Attorney Dennis Ward said he would not be dropping state charges of three third-degree felony counts of cruelty to animals and three third-degree felony counts of killing or wounding an endangered, threatened or species of special concern. Typically, when federal officials take over a criminal case, state prosecutors bow out of the way, but Ward was undeterred last year given the rash of wildlife violations that plagued Florida Keys. He made it public that he was reluctant to drop any wildlife charges in the wake of myriad violations, many of them in July alone.
Given that, Acosta is scheduled to be back in Florida circuit court before Judge Mark Jones on Feb. 8 where he is expected to plead guilty "straight up," or without any plea agreement proffered by state prosecutors. That means he will face a maximum of 30 years in state prison, though such a severe punishment would be atypical. Younge's state case, however, remains pending. He has a docket sounding the same day, but there was no indication as of Friday if he intends to change his plea, according to the court records. In a year marked by people taking queen Conch, a baby sea turtle and other high-profile wildlife violations, the Key deer case was perhaps the most striking.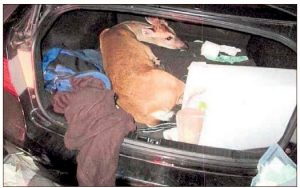 Acosta reportedly told Monroe County Sheriff's Office Deputy Austin Hopp that he caught the deer on Big Pine Key on July 2 using bread to lure them, then grabbed them and bound their feet. He added that he captured them to photograph them, according to arrest reports. The men were stopped while traveling south on Little Torch Key in the 2009 Hyundai, as opposed to heading north to the mainland where they reside. Wildlife officials euthanized one of the deer, a buck that was found in the trunk of the Hyundai a few days later, while the other two deer — a juvenile male and a doe, found in the backseat of the car —were released on Little Torch Key where the men were stopped for a traffic violation. Prosecutors allege Acosta and Younge were stopped at 12:52 a.m. for a routine traffic stop at mile marker 30 on U.S. 1 by a Monroe County Sheriff's Office deputy who immediately contacted Florida Fish and Wildlife Conservation Commission officers and U.S. Fish and Wildlife Service agents when he saw the two deer in the backseat, reports say. A search shortly thereafter turned up the buck in the trunk that was later euthanized.