It's fitting that a family passionate about aviation would live in a house that looked to many so much like a spaceship. Most people living in the Upper Keys have seen the house in the Venetian Shores subdivision on Plantation Key known locally as the UFO house. But not many remember who lived there, why it was built to begin with and neighbors' reaction to it being used as a seaplane base. And few, if anyone, knows what will become of the waterfront property now that the doughnut-shaped, two-story house was demolished last month.
It's a story that begins with immigrants. A Polish patriarch who moved to the United States early in the 20th Century married a young Peruvian woman decades later visiting South America while on an expedition to find adventure and treasure. In the mid-1950s, Henry Casimir Ruzakowski piloted a crew from Baltimore, Md., in a giant Sikorsky VS-44A "flying boat" to Peru in search of gold along the Amazon River. There, Henry, in his mid-40s at the time, met his Patricia, then 19. The two married soon after he left Peru with enough gold to pay back the bank that loaned him and his partners the money they used to buy the Sikorski, and then some.
"It was a hell of a lot more money than what they borrowed," his son, also named Henry Ruzakowski, said in a telephone interview from his airplane hangar in Marion, N.C., where he rebuilds, repairs and modifies seaplanes, specifically the Grumman G-44 Widgeon and the Republic RC-3 Seabee — the same model his father kept and flew from their house at 159 San Remo Drive in Venetian Shores.
The Ruzakowksis raised Henry, daughter Patricia, the oldest sibling, and another son Edmund in South Florida. Henry came to the Keys from Miami-Dade County after the house was built in 1978 and finished his last two years of high school at Coral Shores in Tavernier, where he played baseball.
The Ruzakowskis' history with and love of flying goes back to when the elder Henry Ruzakowski, born 1911 in Poland, immigrated to the United States around 1920. Almost immediately, he began working in factories building seaplanes.
"Always seaplanes," his son said. "That was always his love."
In fact, it was because of the Plantation Key lot's location right on Snake Creek, which leads out to Florida Bay, that the senior Ruzakowski bought it and had his house built there. He wanted a place to launch and land his Seabee.
"The whole reason he bought the property was basically because of the airplane," the younger Ruzakowski said. Before moving to the Keys from Miami-Dade, his father kept the plane at the Kendall-Tamiami Executive Airport.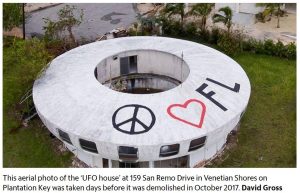 Their house was designed by Miami architect Peter Vander Klout to be able to withstand minds as high as 300 mph, Ruzakowski said.
"The house was basically hurricane proof," he said. "During hurricanes, my father never left. He never evacuated and there were never any issues."
The uniquely shaped, circular reinforced concrete home resembled what people five decades ago envisioned alien spacecraft to look like. And in the middle was a swimming pool about 10 feet deep into which people could dive from the second floor.
"It was the house of the future,' said Joe Ziomek, who, with his wife Diane Ziomek, document Islamorada history. "Everything was round."
But while sturdy and interesting looking, the house's odd shape also made it at times impractical.
"The interesting thing was, here is the kitchen and there is the bedroom, but in order to get to the bedroom, you had to go all the way around the house," Joe Ziomek said.
Ruzakowski agreed.
"We never really got it fixed up the way we wanted to," he said.
It was demolished last month by Native Construction. A Bonita Springs company called the Thomas M Randgaard Trust bought the 19,305-square-foot lot for $950,000 in December 2012. Thomas Randgaard, when reached by phone, declined to discuss his plans for the property.
"I'm out of the country and I don't really have any comment on that now," he said.
While neighbors are eager to find out more about what's next for 159 San Remo, they are happy to see the house torn down because it was falling apart, covered in graffiti, the yard was overgrown and it became a place for young people to hang out and party.
"The house has been in disrepair and left for quite a while," Diane Ziomek said. "People would complain about it with vegetation growing around it and kids partying in it. People would enter it all the time."
Court battles
For the surviving Henry Ruzakowski though, news of the demolition of his parents' home brought mixed feelings. He has many good memories spending his teen years and young adulthood there, but several Venetian Shores residents were vocal about their opposition to the Ruzakowskis' plane, so much so that the neighborhood homeowners association fought the family in court for years.
"We spent tons of money to fight this," Ruzakowski said. "In a way, it kind of destroyed our enjoyment of the Keys. Everything was fine until we started flying the airplane."
"The lady next door always fought us about the airplane. A lot of the neighbors wondered why a 16-year-old would fly an airplane," Ruzakowski said. "I was certainly far safer than the other kids my age then who were speeding in the creek in cigarette boats and running people over in canoes. That happened."
The matter was litigated in county and appeals court for nearly a decade. Ruzakowski estimates the homeowners association paid tens of thousands of dollars in legal fees, but his family had an advantage in the case.
The Federal Aviation Administration and the National Oceanic and Atmospheric Administration designated the property a seaplane base, a designation that remains today. That meant that attorneys from those agencies also defended the family's right to use their yard to launch the plane.
"If they approved it, they had to stand behind it," Ruzakowski said about the FAA and NOAA. "We also had their attorneys to fight on our behalf."
Some neighbors even spread rumors the Ruzakowskis were using the Seabee to fly in drugs, he said.
"Now you can look back at it and laugh," Ruzakowski said. "It was the '80s. I can see why some people would go down that route."
To appease the neighbors, however, the Ruzakowskis stopped taking off and landing on Snake Creek, and instead taxied the plane to and from the bay. It was due to this and the homeowners association's waning appetite to keep fighting the family in court that the lawsuit finally went away, Ruzakowski said.
"If boats can be there, so can a seaplane," he said. "On the water, it's considered a vessel."
Henry's father died in 1998, and his mother in 2013. His siblings live in different parts of the country. He operates his seaplane business out of a 12,000-square-foot hangar with his wife Michele Brignac-Ruzakowski, a retired veterinarian. He likes the relative seclusion western North Carolina offers and said the Keys have become too overdeveloped for him to ever want to return.
"It was a different time for us," he said. "There was like five to seven houses on the street. Now, it's just way too crowded."
Still, looking back, despite issues with the neighbors, Ruzakowski said his time here was happy overall, in no small part to his parents. "They were good people," Ruzakowski said. "We always had something to laugh about."
But he also remembers them as pioneering, adventurous people who raised their children to be the same way.
"Again, it was a different time. A different day," he said. "You can't do that today."
Source: 'UFO house,' and some history, demolished | FL Keys News