Atlanta-based developer Songy Highroads and partner the Wardman Group of Washington, D.C., purchased two oceanfront Islamorada hotels this summer, paying a combined $16 million. The companies closed on the 37-room Days Inn & Suites Key on Islamorada's Upper Matecumbe Key on July 27 for $8.8 million. They bought Harbor Lights Resort on Windley Key, also a 37-room property, for $7.3 million on June 2, records show.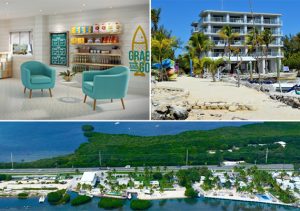 The financial services firm Berkadia secured $13.85 million in loans on behalf of Wardman and Songy Highroads from First National Bank of Miami. The developers used a $7.05 million loan to finance the Days Inn purchase and a $6.8 million loan for the acquisition of Harbor Lights, according to a release.
Songy Highroads plans to renovate and rebrand both properties.
Harbor Lights, 84951 Overseas Highway, has 625 feet of oceanfront, as well as a swimming pool. The developers said they will spend about $3 million to renovate all guest rooms and the lobby, and to overhaul the property's landscaping. They intend to turn the two-star property into a three-star one. The site will be rebranded as Fisher Inn.
The developer also intends to upgrade Days Inn, at 82749 Overseas Highway, two stars to three. Plans call for a $2 million renovation that will include updates to guest rooms and landscaping, according to a separate release. They didn't say what how the Days Inn will be rebranded.
Under growth regulations imposed by the state of Florida, the number of hotel and motel rooms are capped in Monroe County and Keys municipalities. Songy Highroads COO Todd Nocerni said those strict regulations helped make Harbor Lights and Days Inn strong investments.
"Due to the popularity of the tourism in the area and local ordinances restricting the construction of new hotels, the Florida Keys have the highest [revenue per available room] in the country behind New York City," he said in a statement.
The room caps are imposed by the state to protect the Keys' fragile environment and to facilitate hurricane evacuations.
Source: Harbor Lights Resort | Days Inn Islamorada | Songy Highroads