Monroe County Tourist Development Council's most recent Smith Travel Research report shows Florida Keys Tourism is doing just fine. The Florida Keys continued with Florida's best average daily rate. during the first quarter of 2017, at $315.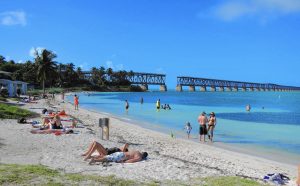 The report on Florida Keys Tourism, with data from January through March 2017, provides a look at the average daily rate and the overall occupancy of hotels and accommodations throughout the Florida Keys comparing year-over-year changes.
In Key West occupancy rates were stable and the average daily rate was down $40 from $393 to $353.
Marathon occupancy increased by 9.1% but the average daily rate decreased by $49 from $368 to $319.
Islamorada occupancy increased 4.3% while the average daily rate dropped $9, from $330 to $321.
While in Key Largo the occupancy rate didn't change much but the average daily rates increased by 8%, or $22, from $279 to $301.
Only Key Largo saw an increase in average daily rates, occupancy and revenue per available room. According to Kelli Fountain, TDC's director of market research, Key Largo's increase is due to the opening of the new luxury hotel, Playa Largo Resort.
According to the TDC, the tourism industry employs 54 percent of the Keys workforce. The estimated value of Monroe County's tourism is $2.7 billion and 60 percent of spending in the county is attributed to tourism.
Read more here: KeysNews
The Florida Keys are teeming with activities and things to do for visitors of all ages and interests. Your time in the Keys can be as action-packed and thrilling or relaxed and low-key as you desire. You control the pace of your vacation.
Adventure-seekers can test the water, and their skills, on a fishing charter for prized game fish. Get up close and personal with tropical fish on a snorkel trip, or dive to explore a ship wreck on the ocean floor. Visit local art galleries and museums and shop for unique gifts. Feast on fresh seafood at fine restaurants and hang with the locals, or just hang on a hammock suspended between two palms. Simply unwind and let go with the outgoing tide. You will be, after all, on island time.
Written by locals, Fodor's travel guides have been offering expert advice for all tastes and budgets for more than 80 years.
A slender necklace of landfalls off the southern tip of Florida, the Florida Keys are nirvana for anglers, divers, literature lovers, and Jimmy Buffet wannabes. The favorite of many travelers–and the biggest tourist draw–is Key West, the southernmost point in the continental United States, known for its sometimes raucous nightlife and sunset celebrations. But the other keys have their own unique atmosphere–from the diving capital Key Largo, to the beautiful beaches of Bahia Honda, to exclusive (and expensive) Little Palm Island.
This travel guide includes:
· Dozens of maps
· An 8-page color insert with a brief introduction and spectacular photos that capture the top experiences and attractions throughout the Keys.
· Hundreds of hotel and restaurant recommendations, with Fodor's Choice designating our top picks
· Multiple itineraries to explore the top attractions and what's off the beaten path
· Coverage of The Upper Keys, Key Largo, The Middle Keys, Islamorada, Marathon, Little Torch Key, The Lower Keys and Key West.