The 6 Florida Keys Lighthouses are among the 11 "most endangered" historic sites in the state this year, says a statewide preservation group.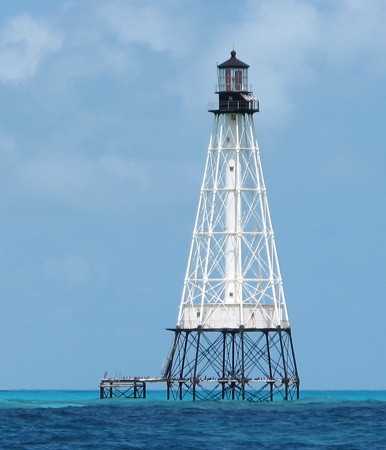 This week, the nonprofit Florida Trust for Historic Preservation, meeting for its annual conference in Tallahassee, released its list of 2016's most threatened historic resources. The lighthouses are on the list. Here's what the trust said:
"The Florida Keys reef lighthouses are an important piece of Florida's history. The six reef lighthouses are Carysfort Reef (six miles south of Key Largo, built in 1852), Sand Key (seven miles southwest of Key West, built in 1852 and 1853), Sombrero Key (five miles south of Marathon, built in 1857 and 1858), Alligator Reef (four miles south of Islamorada, built from 1871 to 1873), Fowey Rocks (six miles east of Key Biscayne, built in 1887 and 1888) and American Shoal (five miles south of SugarLoaf Key, built in 1879 and 1880).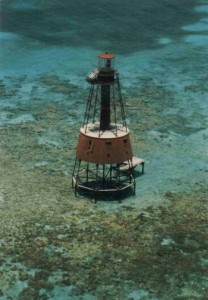 "These lighthouses are made of cast iron with a skeletal design to let as much wind and waves pass through in order to withstand hurricanes. These lighthouses were constructed to warn ships of the hazardous reefs below the surface.
The Florida Keys lighthouses are owned by the U.S. Coast Guard. The Florida Keys Reef Lights Foundation is applying for ownership of all but Fowey Rocks, which has been transferred to Biscayne National Park.
"With the Coast Guard facing budget cuts and many boaters relying on GPS for navigation, the proper upkeep of the lighthouses has been lacking," the trust says. "All lighthouses now have corrosion showing and vandals leave the doors and windows open, causing damage on the inside (Fowey Rocks has been secured now).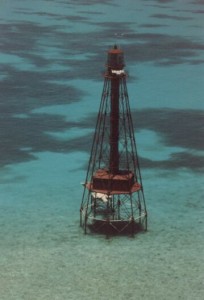 "The need to save these lighthouses as pieces of history now doubles to protect the reef. Should the lighthouses be left to decay, the structures would fall on the reef, causing damage that cannot be repaired."
Other sites on the trust's 2016 list include the Coconut Grove Playhouse in Miami (built in 1926), which is vacant but which the trust says has been subject to vandalism; the 2,585-acre Elliot Plantation on Merritt Island, which dates to 1763; and the old Leon County jail in Tallahassee.
Founded in 1978, the Florida Trust for Historic Preservation is a nonprofit organization of more than 1,600 members and a statewide partner with the National Trust for Historic Preservation. Its mission is to promote the preservation of Florida's unique cultural, historical and architectural resources through advocacy, education and property stewardship.
Source: Statewide preservation group says Keys lighthouses among the most endangered historical resources