The Florida Keys Beaches are very important to Florida Keys Wildlife. Follow these tips to ensure the protection of our Florida Keys Beach Wildlife.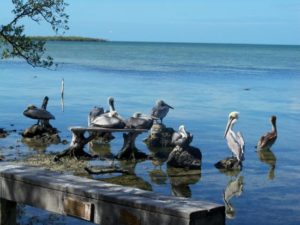 Respect posted areas, even if you don't see birds inside them. Birds, eggs and nests are well-camouflaged with the beach environment, and disturbance by people can cause the abandonment of an entire colony.

Give colony islands a wide berth, and when fishing, be sure not to leave any equipment behind. Always dispose of fishing line and tackle appropriately.

Avoid disturbing groups of birds. If birds take flight or appear agitated, you are too close.

Refrain from walking dogs or allowing cats to roam freely on beaches during the nesting season.

Even on a leash, dogs are perceived as predators by nesting birds, sometimes causing adults to flush at even greater distances than pedestrians alone.

Don't let pets off boats onto posted islands or beaches.

If you must walk your dog on beaches, always keep it on a leash and away from the birds.

Please do not feed gulls or herons at the beach, or bury or leave trash, picnic leftovers, charcoal or fish scraps on the beach. These scraps attract predators of chicks and eggs, such as fish crows, raccoons, foxes, coyotes and laughing gulls.

Leave the fireworks at home and attend an official display instead. Impromptu fireworks on Florida's beaches and waterways have catastrophic effects for vulnerable chicks and eggs.

Beach-nesting birds sometimes nest outside of posted areas. If you notice birds circling noisily over your head, you may be near a nesting colony. Leave quietly, and enjoy the colony from a distance.

Most people would never want to hurt baby birds. If you see people disturbing nesting birds, let them know how their actions may hurt the birds' survival. If they continue to disturb nesting shorebirds or if you see people entering closed Critical Wildlife Areas, report it to the FWC's Wildlife Alert Hotline: 888-404-FWCC (3922),

#FWC

or *FWC on a cell phone, or by texting .