By Tony Capecchi
"Another perfect day, on this island town." It was impossible to argue with the guitar-strumming duo who sang those words as the sun set over Lorelei Cabana Bar and Marina in Islamorada, Florida on this 76-degree May evening.
My wife and I were stuffed from a fantastic dinner at the world-renowned yet refreshingly casual, ocean-side restaurant as the musicians crooned up on stage, but that didn't stop us from devouring our frozen key lime pie. As we indulged, it occurred to us that the only way to improve on the accuracy of the song's refrain would be to add the phrase: "at this perfect bar."
"Perfect" is a cliché, but spend an evening at Lorelei's outdoor restaurant and you'll quickly see why it's the first word that comes to mind. You'll also see why Lorelei, recently named one of the top five "after-fish restaurants" in the world, attracts folks from all over the planet.
The restaurant feeds over 1,500 people throughout a busy day, with live music every night, a massive marina home to hundreds of boats and 33 fishing guides, and an ideal view of the sunset. But most importantly, Lorelei possesses a vibe all its own––a fun-loving fellowship shared by its staff and guests alike that embodies the spirit of the Florida Keys.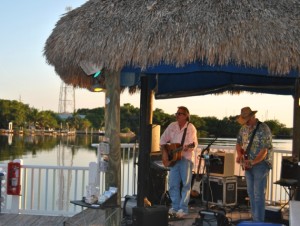 "We have fun here," said John Maloughey, the restaurant's general manager. "We get good musicians every night and we offer very affordable prices so people want come back."
Maloughey knows a thing or two about coming back. The Islamorada native has failed at retirement twice, returning several times to manage the restaurant he's helped operate since 1989. Lorelei is the place the locals go––along with the tourists, of course––so when Maloughey walks along the west-facing deck, he's stopped by handshakes, smiles and fishing tales from friends.
His down-to-earth nature is commonplace at the restaurant. He sat down at our table to shoot the breeze with my wife and me, sipping on a lemonade while we enjoyed rum runners from the restaurant's extensive happy hour cocktail list.
"I still work about 80 hours a week, but when you love what you're doing and you don't necessarily need the money anymore it's a lot different," Maloughey said. "We have a lot of staff who've been here for years, and that makes it nice."
Our waiter that night, Sean, was a classic Keys man. His home floats; a boat he shares with his wife as they "follow the seasons." He bartends in the Bahamas during peak tourism season there, then motors north to the keys to dock at Islamorada and work at Lorelei the rest of the year. "We have no bills, no kids, and no complaints," he said casually. What a life.
Maloughey, meanwhile, has two adult daughters––both of whom can run their own boat. "I took both my daughters out boating and fishing since they were little," he said. "Islamorada is a great place for kids if you like the water, but there's a not a ton else for kids to do in this town, so we make sure we're a family-friendly place, and people seem to appreciate that."
Indeed, the gang at Lorelei does more than its fair share for area kids. Each year, they run a huge youth fishing derby and give away tons of prizes. For a full month before the event, Maloughey feeds the fish at 10am every day to help the kids' success rate for the 10am fishing event.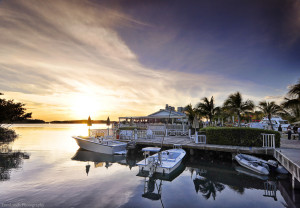 For adults, Lorelei's marina hosts over 50 major fishing tournaments every year, with prizes worth tens of thousands of dollars. The restaurant and its fresh seafood, cheap drinks and picture-perfect view of the sunset have a way of bringing out the kid in everyone. Several tables away from us, a group of eight broke out into a round of "Don't Worry, Be Happy" when the professional musicians took a break.
When Davidson and Webb got back on stage and resumed singing, an old buddy of theirs walked up to the stage to greet them. The friendly duo didn't hesitate to take a break from singing to visit with their friend. When they resumed, a 50-something year-old woman went up to the stage and started dancing, trying unsuccessfully to bait every man and woman within sight to join her.
The evening rolled on with that sort of carefree, fun atmosphere and as my wife and I enjoyed delicious shrimp, fish dip and snapper tacos, we mutually agreed that while Lorelei cost only a fraction of the price of other dinners on our trip, it was hands-down the best dinner we've had in the Keys.
Jrose from Natick, Massachusetts summarizes Lorelei well in a TripAdvisor review: "Great service, great views and excellent music. Recommend it for all. Try it early and often in your stay."
Indeed, it's a perfect end to any day on this island town.
The website for Lorelei Cabana Bar and Marina is www.loreleicabanabar.com. For more information, email or call 305.664.2692.
We started with Lorelei's Smoked Fish Dip, made of smoked local fish with island spices topped with capers, diced onions and served with crackers (above), and the Steamboat Channel Shrimp, fresh steamed, peel-and-eat served chilled, with island spices (below).
At the waiter's suggestion, we also tried some Bacon Wrapped Shrimp Skewers, drizzled with a sweet Thai chili sauce. They were incredible. Such a unique taste combination, I would have never tried it had it not been for Sean's suggestion, but it was fantastic.
For a main course, I had the Snapper Fish Dinner: fresh, blackened snapper with the chef's sauce on a sandwich with french fries and vegetables. Jodie got the Snapper Tacos, three soft tacos prepared with blackened snapper and cabbage, tomatoes, mixed cheese and a cilantro lime mayonnaise. We took our time to enjoy the atmosphere and the food, and it was all so delicious we managed to finish every bite. Did we need dessert after all that? No. Did we have a piece of Lorelei's famous Frozen Key Lime Pie anyway? Of course. It was the right thing to do.
We also enjoyed walking around the marina before and after dinner, and spotted a couple manatees swimming in the area. The entrance to Lorelei features a beautiful taxidermy display, as well. It's not a surprise to see such a variety of trophy fish, given that Islamorada is widely considered one of world's premiere fishing epicenters. "According to the IGFA (International Game Fish Association), more saltwater records have been set in the Florida Keys than anywhere else in the world," said Andy Newman, Media Relations Director of Newman PR. "Where else in the world can you go out in the morning and catch a 300-pound swordfish and a 30- or 40-pound dolphin, come back in to catch a few snappers for dinner, then in the evening go out and catch a 100-pound tarpon?"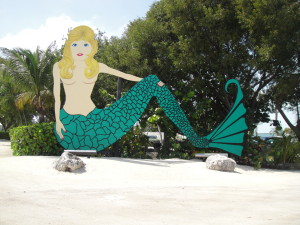 A recognizable landmark associated with the restaurant is its giant mermaid, Lorelei. Over the decades, there have been several different mermaids, and her look has evolved. When this current mermaid was first painted, he hair was a few inches shorter, revealing her bare chest. A couple hours after the painting was finished, a bus driving the local Christian school happened to drive by. "The teacher called me up, and boy did she ever chew me out," Maloughey recalls with a chuckle. "I hadn't even been down to see the painting yet, so I didn't know what she was talking about. So I went over and saw it, and told the painter he needed to make her hair a little longer."