The rise of Netflix in living rooms across America is testament not only to the comfort of our couches, but also to the power of some very popular original content. While Netflix and providers like Amazon Prime don't release ratings information, the increasing popularity of original series like Stranger Things and Luke Cage is irrefutable (See that time Netflix broke the internet for proof.) Here at HSI, we wondered if the data on streaming content Netflix Shows by state in 2016 might tell a compelling story about how Netflix favorites reflect regional differences.
Americans all across the South and Midwest were obsessed with the ABC political thriller, Scandal. Shocking, right? Apparently, even though it's an election year, we just can't get enough of this intrigue, conspiracy stuff.  Coming in a close second was Orange is the New Black, Netflix's most watched original series, known for its orange jump-suited cast and irreverent sense of humor. Bloodline, another Netflix original, scored a few super fan states with its steamy locale and tantalizing tale of mystery and murder.
Wondering how we determined your state's streaming series winner?  Our team took the top 75 TV shows on Netflix, cross referenced the shows with Google Trends data, and determined which series was most likely to be streamed on devices near you. So hand over the remote and settle in while we dig into the data and discuss what streaming has to say about your part of the country.
CORD CUTTERS PREFER CHALLENGE, NOT COMFORT
Many of these types of TV and movies by state maps tend to turn up correlations with comfort and the popularity of regional shows. And while you'll see some of that happening here (DC does love Scandal and Florida takes the bait on Bloodline), there's much less of it as a whole in comparison to traditional TV consumption.  Perhaps this is because many who consume streaming content on Netflix are also cord cutters. Cord cutters are those without traditional cable or satellite TV subscriptions and they tend to be younger and more tech savvy. According to several studies, these types of demographics may mean cord cutters are more likely to exhibit curiosity and want variety in their entertainment.
STEREOTYPES SHAPE REGIONAL STREAMING FAVORITES
Some clichés are true, whether you like it or not and you'll see that play out across certain areas of the country.
Southerners are attracted to dramas and violence as Scandal and Bloodline take center stage in streaming content.
The Wild West still embraces the criminal element with Orange is the New Black and Narcos.
Pacific Coast residents keep it light-hearted with quirky comedies and romances like Crazy Ex-Girlfriend and Portlandia.
New Englanders prefer their women strong and hearty, with shows that feature female protagonists including Nurse Jackie, New Girl, Crazy Ex-Girlfriend, and Shameless.
DEMOGRAPHICS DICTATE OUR CONTENT CHOICES
Some of the closest correlations we found were not between a state and the setting of a show, but between the demographics of that state and the characters or premise of the show. Rather than leaning towards regional differences, much of the popular streaming content seemed to correlate with a few identifying  factors.
CONSERVATIVES ARE EITHER PLAYING IT NAUGHTY OR NICE.
The Top 10 conservative states as identified by Gallup all prefer either Scandal, which is a decidedly R-rated affair, or Gilmore Girls and Stranger Things, which is PG fodder. There was little to no in between, suggesting religious and more traditional populations have a secret taste for sin or a predictable penchant for family-friendly fare.
PRACTICING FOR A LIFE OF CRIME.
States like Arizona and Alaska, where the incarceration rate is particularly high, love Orange is the New Black, perhaps because quite a few residents are no stranger to the inside of a cell.
Annie Get Your Gun. Here come the Zombies.
West Virginia and Wyoming both like zombie-themed content, with its emphasis on doomsday scenarios. Both states also fall neatly into the most guns per capita category, so if and when the zombiepocalypse comes, they'll be ready.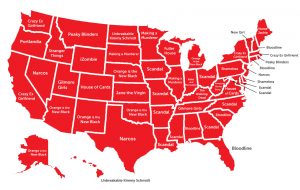 | | |
| --- | --- |
| Alabama | Bloodline |
| Alaska | Orange is the New Black |
| Arizona | Orange is the New Black |
| Arkansas | Scandal |
| California | Crazy Ex-Girlfriend |
| Colorado | House of Cards |
| Connecticut | Bloodline |
| Delaware | Shameless |
| DC | Scandal |
| Florida | Bloodline |
| Georgia | Scandal |
| Hawaii | Unbreakable Kimmy Schmidt |
| Idaho | Stranger Things |
| Illinois | Making a Murderer |
| Indiana | Parks and Recreation |
| Iowa | Scandal |
| Kansas | Jane the Virgin |
| Kentucky | The Walking Dead |
| Louisiana | Scandal |
| Maine | Nurse Jackie |
| Maryland | Scandal |
| Massachusetts | Crazy Ex-Girlfriend |
| Michigan | Orange is the New Black |
| Minnesota | Making a Murderer |
| Mississippi | Scandal |
| Missouri | Scandal |
| Montana | Peaky Blinders |
| Nebraska | Orange is the New Black |
| Nevada | Narcos |
| New Hampshire | Bloodline |
| New Jersey | Narcos |
| New Mexico | Orange is the New Black |
| New York | Crazy Ex-Girlfriend |
| North Carolina | Scandal |
| North Dakota | Unbreakable Kimmy Schmidt |
| Ohio | Scandal |
| Oklahoma | Orange is the New Black |
| Oregon | Portlandia |
| Pennsylvania | Shameless |
| Rhode Island | Peaky Blinders |
| South Carolina | Bloodline |
| South Dakota | Making a Murderer |
| Tennessee | Gilmore Girls |
| Texas | Narcos |
| Utah | Gilmore Girls |
| Vermont | New Girl |
| Virginia | House of Cards |
| Washington | Crazy Ex-Girlfriend |
| West Virginia | American Horror Story |
| Wisconsin | Fuller House |
| Wyoming | iZombie |
Do you identify with the most streamed series in your state? Let us know in the comments.
Source: 2016's Most Streamed Netflix Shows by State – HighSpeedInternet.com News