Dolphin Kids is our weeklong marine science summer camp for kids ages 6 -10, hosted at our beautiful Dolphins Plus Bayside facility. Campers learn about all sorts of subjects, from local ecosystem ecology to dolphin communication and behavior. Best of all, our dolphin camp makes learning fun through hands-on science activities, marine mammal lessons and shows, behind the scenes tours, and coastal exploration!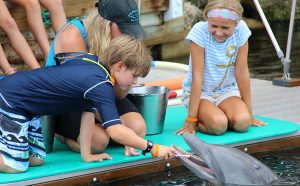 Your kids will learn cool stuff like how dolphins use sonar to investigate fish guts. They'll discover how blubber works. They'll learn which is smarter, a dolphin or a squid?  And they'll learn how we can help protect our gentle giants, the endangered Florida Manatee.
Why send your kids to a regular summer camp, when you can send them to a dolphin camp in Key Largo for a summer they'll never forget?
Camp Dates and Times:
July 10th, July 17th, July 24th, and August 7th 2017
Monday – Friday, 9 a.m. – 4:30 p.m.
Please make you reservation early, because these programs fill up quickly!
Camp Fee: $300 per student/week
Daily Themes:
Monday – Coral Reefs, Mangroves, and Seagrass Beds
Tuesday – Marine Mammals of the World
Wednesday – Marine Mammal Behavior and Training
Thursday – The Florida Everglades
Friday – Ocean Conservation (+ Dolphin Kids Show!)
Included in each weeklong session:
stainless steel water bottle (with printed camp logo and camper's name)
canvas bag with original design
custom training whistle
8 x 10 camp photo
camp certificate of completion
snacks (lunch not included M – Th)
pizza party (Friday)
OPTIONAL SUMMER CAMP UPGRADES:
Early and Late Care:
Early Care – 8:00 – 9:00 a.m., $25/week
Late Care – 4:30 – 5:30 p.m., $25/week
Combo Early & Late Care – $45/week
Shallow Water Dolphin Interaction Program (Friday): $125 per student*
* This is a special rate for our campers, and availability is limited.  So, please book your interactions when you sign your child up for the camp.  Parents are welcome to participate for the same fee and/or observe their children during the wade program.
For more info click here: Dolphin Plus Summer Camp