As you would expect Seafood Rules in the Florida Keys restaurants. But you can't eat seafood for every meal…or can you? Most serve up cuisine reflecting the tropical Caribbean flavors. Tropical fruits and veggies, fresh seafood, and tropical drinks both alcoholic and non-alcoholic (you must try Mrs. Mac's Key Lime Freeze).  In season you can enjoy Florida spiny lobster, stone crab,  grouper, and hogfish.
When eating out with the family one consideration is affordability. You will find plenty of affordable restaurants in the Florida Keys. This list will get you started but if you are on an extended stay be sure to talk to other locals and visitors about their favorites.
Mangrove Mike's Cafe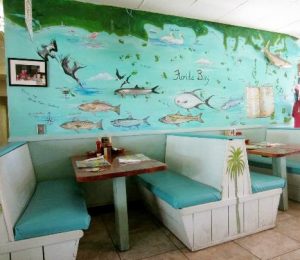 It is on everyone's list as a top choice. For breakfast, served 6 am until 2 pm, you will see it described as huge portions, fair prices, great variety, and friendly service. You will see crowds on weekends mid morning but they handle them well. If you visit off-peak times you may have less wait time.
The Lunch Menu will satisfy everyone from seafood lovers to landlubbers. You can get wraps with shrimp, chicken, vegetarian, and roast beef. There is even a Cuban Wrap with Cuban pork, ham, Swiss cheese, pickles, and mustard. Some of Mike's specials include their Fish Sandwich either grilled, blackened, or fried and the Philly Cheese Steak Quesadilla.
Where: 82200 Overseas Hwy, Islamorada 33037
Phone 305-664-8022
Website: Mangrove Mike's Cafe
Facebook: Mangrove Mikes Cafe & Catering
Bien Caribbean Latino Restaurant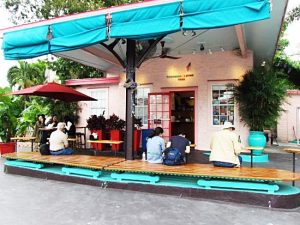 Listed as the #2 Restaurant in Key West on Trip Advisor, this lesser known outside dining spot has Latin, Fusion, Caribbean, Vegetarian-Friendly, and Vegan options to please every family at affordable prices. As with most affordable, family friendly, favorite restaurants you may have to wait to enjoy their tasty treats at peak days and times. But as one reviewer put it "Shrimp and grits worth the wait." If your family hasn't experienced Cuban Cuisine this is the place to start. The friendly staff will be sure to explain the different menu items and make suggestions.
Sandwiches include the Caribbean Roast – Pork shoulder coated in Bien marinade & slow roasted 'til falling into succulent morsels. Mahi Mahi (Dolphinfish) – Delectable slices of Mahi pan seared thoroughly with extra virgin olive oil & garlic tapenade. and of course The Press – Succulent morsels of roasted pork nestled atop banana peppers draped with sheer slices of smoked ham, mozzarella cheese, caramelized onions all melted together between a hot press.
If you are there for dinner you will enjoy Caribbean Scallops – Savory sea scallops pan seared in extra virgin olive oil, garlic tapenade, cilantro & red sauce, Paseo Prawns – 6 peeled & deveined black tiger prawns, sautéed in extra virgin olive oil, garlic tapenade, cilantro & red sauce, and Tofu Con Gusto – Stout slices of extra firm organic tofu, sautéed in extra virgin olive oil, garlic tapenade, cilantro and red sauce. All served all day with the following: Bien salad drizzled with our house vinaigrette & extra virgin olive oil. Accompanied with jasmine rice & our critically acclaimed vegetarian black beans.
Where: 1000 Eaton St, Key West, FL 33040
Phone 305-517-6740
Website: Bien Caribbean Latino Restaurant
Facebook: Bien Caribbean Latino Restaurant
Harriette's Restaurant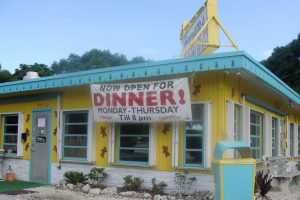 This historic Key Largo restaurant, an Upper Florida Keys institution for 30+ years, was long known as the place for Breakfast from 6 am to 3 pm. Rated the #3 Key Largo Restaurant by Tripadvisor, you will enjoy their American, Vegetarian-Friendly, cuisine. If you are hoping for a fancy 21st-century eatery Harriett's is not the place. If you are craving some Grandma's home style cooking you have found it. There may be limited parking and a little wait time if you arrive at peak Breakfast time.
Since they are famous for Breakfast you shouldn't miss the fabulous muffins, omelets, biscuits and gravy like you remember, and, of course, pretty much all the other breakfast items just how you remember them.
If you are interested in a little Harriette's Restaurant history read this article.
Where: 95710 Overseas Hwy., Key Largo, FL 33037
Phone 305-852-8689
Facebook: Harriett's Restaurant
Island Time Diner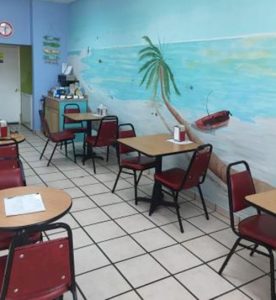 This Marathon diner is a perfect stop between your sightseeing adventures. You will enjoy all the standard deli subs & sandwiches, burgers, and it also is an Ice Cream shop. Check out their Facebook page for the  different daily special menu items like a Fresh Veggie or Ham, Onion and Spinach Quiche. Or maybe the Indian Taco. You never know what they may be offering.
Where: 5187 Overseas Hwy., Marathon, FL 33050
Hours: 11 am – 9 pm
Phone 305-204-4825
Facebook: Island Time Diner
Hurricane Grill

If you are looking for a place in Marathon with a little something for everyone in the Family then the Hurricane Grill is the place. As they describe themselves: Located in the heart of the Florida Keys, The Hurricane Grill has been Marathon's favorite place to party for over 50 years. Whether you come for the award-winning food, frosty cold libations, great live music or just to hang with friends, we've got you covered. There are even Arcade Games for the kids.
Home to the $5 lunch Monday – Saturday 11 am – 4 pm. Pizza all day every day. and a Full Menu Delivery daily 5 pm to Midnight.
Besides all the standard Pizzas you will enjoy their Famous Ribs, Dolphin del Mar – Baked dolphin topped with a crabmeat stuffing and herbed butter, served on a bed of rice, Baked Stuffed Shrimp – Oven baked shrimp stuffed with a crabmeat stuffing, served with chef's rice, and more.
You shouldn't miss the Hurricane Wings, Buffalo Shrimp, or for something different Totchos – Tater tots smothered with cheese sauce, bacon, sour cream, and scallions.
The Sandwiches include Dolphin Rachel – A Hurricane original. On grilled rye with Swiss cheese, slaw & 1000 island dressing, Cuban Press Wrap – Ham, mojo pork, Swiss cheese, pickles, mayo, and mustard grilled in a flour tortilla, or a Build Your Own Hand Patted 100% Certified Angus Beef or Fresh Chicken Breast Additional toppings: sautéed onions, mushrooms, peppers, fresh salsa, guacamole, jalapeno, Bacon, American, Swiss, Provolone, Cheddar or Blue cheese. WOW!
Where: 4650 Overseas Hwy., Marathon, FL 33050
Hours: 11 am – 12 pm
Phone 305-743-2220
Website: Hurricane Grill
Facebook: Hurricane Grill
For a different Florida Keys Restaurants experience try
Square Grouper Bar and Grill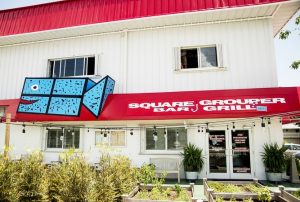 This Lower Florida Keys (Cudjoe Key) restaurant is a little higher priced than the others listed here, but not out of sight prices. Besides, you are entitled to splurge a little now and then. They do offer "Small Plate" meals with Seafood choices between $12 and $14. Sandwiches start at $10 for Chicken and Hamburgers to $15 for Local Fish of the Day Tacos or Sandwiches and up.
Here is an interesting story about the Square Grouper History.
Where: 22658 Overseas Hwy., Cudjoe Key, FL 33042
Hours: Closed Sunday and Monday – 11 am – 2:30 pm and 5 pm – 10 pm
Phone 305-745-8880
Website: Square Grouper
Facebook: Square Grouper
If you love Florida Keys Restaurants check out this great book.
Over 150 Recipes and Tall Tales from some of the most famous restaurants in the Florida Keys. Inside this book, you'll find recipes as seen on Florida Insider Fishing Report from Marker 88, and recipes featured in the Keys Weekly newspapers. Learn to make sea salt and preserved key limes. How to prepare lionfish and for the adventurous, try fried ballyhoo. Find out about the history of the Florida Keys from Robert Stoky who grew up in a fishing family from the heart of the Upper Keys. From preparing the world-famous Rum Runner to Mahi Martinique to a key lime brined turkey for a holiday dinner, this book will amaze and delight your taste buds and senses. Recipes for seafood, chicken, pork, steak, tropical drinks, amazing bread, and delicious desserts from the famous, and the tropical Florida Keys.
Robert Stoky is the chef/owner/author of many restaurants in the Florida Keys. His recipes have been featured on the Florida Insider Fishing Report, Tastes of the Florida Keys, and on KeyTV. In addition, Mr. Stoky is regularly featured in the Keys Weekly Newspapers and the Keys Epicurean. A native of South Florida, Stoky has been working in and around restaurants almost his entire life. Commercial fishing with his brother and friends on the weekends to earn spending money and then working as a dishwasher and cook at the family restaurants at night.