Harboring the only living coral barrier reef in the continental United States, the Florida Keys – Top Dives – are largely devoted to maintaining the region's offshore environment. The Florida Keys National Marine Sanctuary, established in 1990, comprises 2,900 square nautical miles of coastal waters from northernmost Key Largo south to the Dry Tortugas. Sanctuary Preservation Areas established as protected no-take zones enable fish and crustacean populations to thrive and grow.
Five sites, in particular, are included in the Florida Keys' "Become a Reef Explorer" dive and snorkel program. The program spotlights Keys coral reefs with a specially created souvenir journal designed for first-timers, families and fun-loving outdoor enthusiasts of all experience levels who want to log dives or snorkels exploring several bountiful reefs between Key Largo and Key West.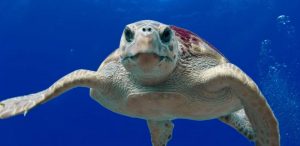 It's common for divers and snorkelers to spot sea turtles, stingrays, Goliath groupers, nurse sharks, or bright green moray eels among barrel sponges and sea fans.
Key West's largest protected coral reef is Western Sambos, part of an ecological reserve created in 1997. Several other extensive shallow reefs off Key West including Eastern Dry Rocks, Rock Key, and Sand Key are abundant in corals, gorgonians and fish, and range from 5 to 45 feet in depth.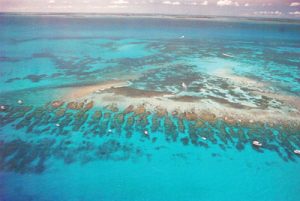 Looe Key Reef in the Lower Keys is an area of the Florida Keys National Marine Sanctuary approximately six miles south of Big Pine Key. A complete reef ecosystem is found here between 20 and 40 feet, from a rubble ridge of ancient fossilized corals to a reef flat comprised of turtle grass and a fore reef made up of large star and brain corals. Further out is American Shoals, favored for its lighthouse structure, corals and abundant marine life.
Good and Evil of Hurricanes for Florida Keys Coral Reefs
Marathon's notable shallow patch reefs and spur-and-groove formations include Sombrero Reef, marked by a large lighted tower. Watch spotfin butterflyfish circle in a courting dance, French angelfish nip and peck at reef plants, huge schools of grunts slide back and forth in a gentle tidal surge or a stingray scour the sandy bottom for a snack.
At Crocker Reef off Islamorada, depths range from 30 to 60 feet, and its south end slopes along a wall of spur-and-groove coral formations and coral mounds that extends for more than 400 feet, with gradual depths to nearly 80 feet. It's common to see large schools of blue-striped grunts, large groupers, spotted eagle rays, nurse sharks, sea turtles, green moray eels, barrel sponges and sea fans.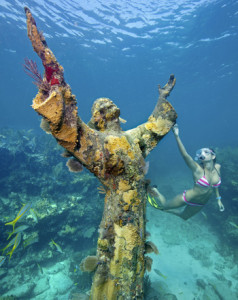 In waters off Key Largo surrounding John Pennekamp Coral Reef State Park, which is incorporated in the Florida Keys National Marine Sanctuary, lies Dry Rocks. At this spot, the nine-foot bronze "Christ of the Abyss" statue rests in approximately 20 feet of water surrounded by large brain, staghorn and elkhorn coral formations — as well as a four-foot barracuda that seemingly enjoys being photographed.
Coral Spawn Late Summer Circle of Life Florida Keys Reefs
The Florida Keys boasts an unparalleled variety of marine life, an abundance of fish species, and consistently clear, warm waters to suit virtually every diver. For more information about dive and snorkel opportunities along the island chain, visit fla-keys.com/diving/.