In recognition of Veteran's Day, discerning anglers from across the country are to unite with war heroes to pursue some of the most elusive game fish in the world for trophies and prizes. The annual Cheeca Lodge All-American Backcountry Tournament is set for Thursday through Saturday, Nov. 7-9, in Islamorada.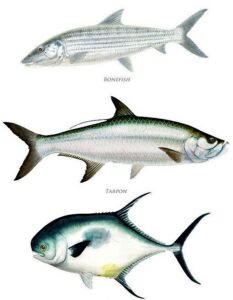 The first-class catch and release tournament was inspired by the nation's 41st president, George H.W. Bush, an avid Florida Keys angler and a regular visitor to Cheeca. Cheeca Lodge Backcountry Tournament honors a participating team of two veteran soldiers to unwind and join up to 25 competitor boats that target five tournament species — snook, redfish, permit, bonefish and tarpon.
A welcome cocktail reception and patriotic beachside banquet, rules meeting and auction kicks off the weekend Thursday, Nov. 7, at Cheeca Lodge, the tournament's social event headquarters at mile marker 82 oceanside. Tickets to attend the kick-off dinner and auction are available to the public with advance reservations.
A Friday evening reception is to be followed by a presentation by former American astronaut and retired U.S. Coast Guard Commander Bruce Melnick. The public is welcome to attend. Tickets for individuals not fishing in the tournament can be purchased in advance. Contact Lisa Thornhill at 305-517-4512 or email .
Fishing is scheduled from 7 a.m. to 3 p.m. Friday and Saturday, based from nearby World Wide Sportsman.
The prestigious Cheeca Lodge Backcountry Tournament fishing event culminates Saturday, Nov. 9, with an awards ceremony and banquet. Individual and team trophies are to be awarded for fly, general tackle and artificial lure divisions.
Entry fee is $1,500 per angler and includes admission to social events for up to four people, daily continental breakfast, boxed lunches for anglers and guides, and a gift bag. Guide fees are additional.
Proceeds benefit the Bonefish & Tarpon Trust, a nonprofit organization whose mission is to conserve and restore bonefish, tarpon and permit fisheries and habitats through research, stewardship, education and advocacy.
Registration and information: cheeca.com/all-american
Islamorada visitor information: fla-keys.com/islamorada or 800-FAB-KEYS