I have been in love with the Florida Keys most of my life. Having been born and raised in South Florida, the natural beauty of the area has captivated me since early childhood. The fortune of growing up in a boating family instilled me with an unending need to experience nature to it's fullest. The Upper Florida Keys include the islands from Key Largo through Islamorada, Oceanside Reefs to the Florida Bay. The following are some of my favorite, nature related things to do in the Upper Florida Keys.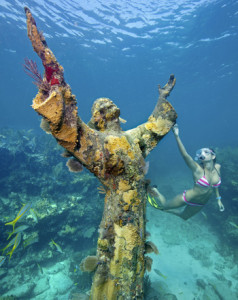 Diving the Upper Florida Keys
A must do is See The Reef. I have been diving most of my life so I'm quite comfortable getting in the water to enjoy the reef and sea life. You don't have to be a Jacques Cousteau type to participate. Pennecamp State Park as a wonderful Glass Bottom Boat that will give you an opportunity to see the reef and sea life without getting wet. This should inspire all but those with a deep fear of the water to get wet and see more. I prefer Snorkeling shallow reefs, less than 30 feet deep, so the dive can last as long as I can.
Fishing the Upper Florida Keys
Fishing, whether for fun or food is another activity everyone can enjoy. This includes fishing from land and boat. If you have local experience you can head out yourself and almost certainly catch fish. If you are not an angler or don't have Florida Keys fishing knowledge it is highly recommended to use a guide to help. This could be a local friend or a professional who would provide everything from the boat to equipment to expert knowledge to get you fishing. The only thing for you to decide is where, Flats, Reefs, Deep Blue Sea, and what you may want to catch.
Exploring the Upper Florida Keys
Last but not least is exploring the natural beauty of the Upper Florida Keys. You will be surrounded by local, State, and National Parks and Recreation areas. Some of my favorites include Everglades National Park, Crocodile Lake Wildlife Refuge, John Pennekamp State Park, Key Largo Hammock Botanical State Park, Indian Key State Park, and Lignumvitae Key Botanical State Park, All of the Florida Keys from the shoreline out is part of the Florida Keys National Marine Sanctuary. These will provide you ample choices for self-guided hiking, biking, kayaking tours. There are also a myriad of tour operators to show and educate you on the wonders of the Upper Florida Keys.
There are also other places and activities such as restaurants, shops, museums, and the nightlife you will enjoy. But that is another story. Hopefully, you will try some of my suggestions and enjoy all that nature has to offer. While the vast majority of days have paradise like weather there will be some weather days that may curtail some activities but will always be somewhere to get outdoors and enjoy. Please comment on your experiences and favorites.