On June 26, 2018, Victoria Burgess will attempt to make history on a paddleboard. She will set out to become the first woman to cross the Florida Straits via SUP. Burgess will launch from Cuba and paddle the 100-120 miles to Key West, Florida. She's referring to her epic paddle as the "Chica Libre Crossing," which means "free girl" in Spanish.
"I wanted a name that would represent the strength in women who 'set themselves free' of anything that is holding them back and go out there and chase their dreams," says Burgess. "It won't be easy but having faith in yourself and pressing forward with persistence, patience and grace will get you to where you need to be."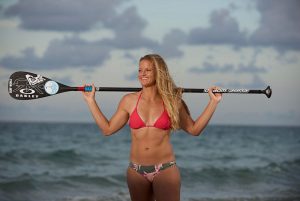 Burgess is doing the paddle in an effort to raise awareness about women in sport. As a coach and nutritionist, she works with a number of female athletes and finds that oftentimes, they aren't aware of their own strength and are hesitant to push themselves to their limits for fear of failure.
"I want to show young girls that anything is possible, regardless of your situation," says Burgess. "You just have to go for it."
The 33-year-old never considered herself an endurance athlete until she discovered stand-up paddling. Throughout her youth, she participated in soccer, basketball, volleyball and water polo before converting to surfing and SUP in her twenties. She began racing and quickly discovered that she loved open ocean and surf races.
Burgess competed in a number of distance races including the world-famous Molokai to Oahu race as well as Maui to Molokai, where she took home a third-place finish in the 14-foot stock division. After spending some time in Hawaii's waters, she developed a love for navigational open ocean events. She decided it was time to do a crossing on her home turf and after doing some research, she settled on the crossing from Cuba to Key West.
"I love the uncertainty of it all," says Burgess of the open ocean. "I love having to be ready for whatever presents itself. I like the challenge of ever-changing conditions. And I really love the fact that you are this little thing out there in this big thing."
Burgess works full-time so she has to be strategic with her training. During the week, she's able to get in a few short paddles as well as some cross-training during her lunch break. On weekends, she focuses on longer paddles, incorporating nutrition and the gear she plans to use during the crossing. Her longest paddle to date is seven hours but she plans to do a twelve-hour paddle before the big day. In addition to her training, she likes to incorporate fun. She surfs whenever there are waves and climbs at her local gym once a week.
On the day of the crossing, Burgess will have a support boat and crew with her to prep her nutrition and ensure her safety. The boat will have two captains, a paramedic and a videographer, as well as a personal friend and her boyfriend onboard. Burgess is planning on a thirty-hour paddle but is hopeful she will be able to complete the crossing in twenty-five.
"I want to see how far I can push my body, not only physically but mentally as well," says Burgess. "I also want people to see that it is possible to do wild things even if you work and have a family and bills to pay. You don't always have to quit your job or your current life to go reach for your biggest dreams. If you plan right and don't quit, anything is possible."
Source: Victoria Burgess To Attempt Chica Libre Crossing From Cuba to Key West