Seychelle Hattingh said she'd be "stoked" if she paddled more than 100 miles while attempting to break the standup paddleboard record for distance in a 24-hour period. The Guinness world record for women was 90.4 miles. For men, the record is 106 miles. Last weekend at Nathan Benderson Park in Sarasota, Hattingh paddled 115 miles. "It feels really great to achieve the goal that I've been working toward for a year now," Hattingh said. In the meantime, she raised more than $1,600 from supporters for Special Olympics Florida Monroe County. "That's what really kept me going. Every time I got tired, that's what I thought about," Hattingh said this week. "I thought about not letting everybody down."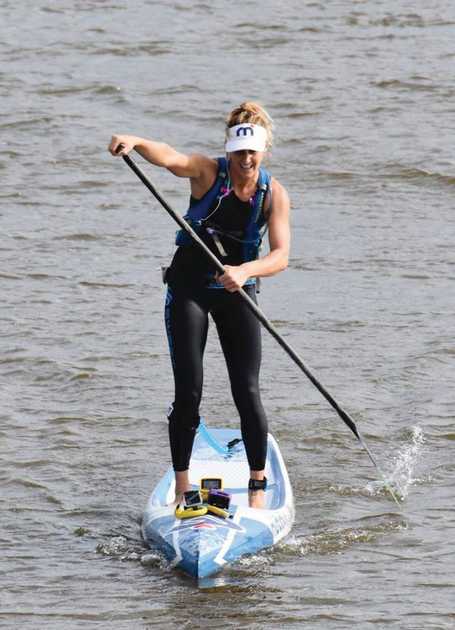 Hattingh actually broke the record unofficially on New Year's Day when she and her boss at Paddle! The Florida Keys, Scott Baste, decided to ring in 2015 with some distance paddling off Key Largo. By the time she decided to stop, Hattingh covered 94 miles. In a September interview with The Reporter, she explained that going the distance that day inspired her to go for the official record. "We did it just for fun. I broke the record, and I wasn't even trying, so I thought, 'let's do this officially,' " Hattingh said. "That's what kind of sparked the whole thing."
At the time, the 2005 Coral Shores grad was fresh off her win in the women's division of the 11 Cities 135 Mile SUP Race Holland in the Netherlands. Hattingh, 28, was crowned supreme champion of the race. Ever the competitor, she has her eyes set on racing shorter distances that value speed over endurance. To the average paddler though, those races sure seem like long-distance competitions. The courses run from six to 12 miles.But that doesn't mean Hattingh is ready to give up distance paddling. "I definitely have an aptitude for endurance events, so I don't want to put that out of my mind," she said. Before starting her athletic career, Hattingh led a life at sea sailing the world as a professional yachtsman for eight years. She began standup paddling in 2010 and moved back to the Keys in 2014 to make it her life's work.
She also has a couple of day jobs, not surprisingly in the fitness industry. She teaches paddleboarding at Tavernier's Paddle! The Florida Keys, guides paddle tours for the company and instructs paddleboard yoga. She also instructs yoga at Key Largo Yoga & Holistic Coaching's two studios at mile markers 99.1 and 91.2. Hattingh is in the process of submitting all the time records, photos, witness logs and other information to Guinness "to show them you actually did it." Although she never stopped paddling last weekend, Hattingh said achieving her goal was a team effort. Between 15 and 20 people were with her on the water in support boats and paddleboards as she rowed, and she remains grateful to them. "They were really, really incredible," Hattingh said. "That was really great to actually never be alone the whole time."
Hattingh is home now but is still collecting money for Special Olympics Florida Monroe County. To support the effort, go to www.firstgiving.com/fundraiser/seychelle-hattingh/24hour. You can also follow her latest competitions at www.facebook.com/seychelle or http://www.seychellesup.com.
Source: Keys' Seychelle Hattingh breaks standup paddleboard distance record