The Florida Keys, a paradise for ocean enthusiasts and adventure seekers, has once again set the stage for an adrenaline-pumping and unforgettable experience – the 2023 Florida Keys Sport Lobster Season. This much-anticipated event draws thousands of divers and snorkelers from all over the world, eager to catch a glimpse of these elusive crustaceans and participate in a sustainable and exciting tradition. In this blog article, we'll explore the highlights of the 2023 Sport Lobster Season, the rules and regulations in place to protect the ecosystem, and why this annual event continues to captivate the hearts of both locals and visitors.
The Tradition of Sport Lobster Season
For over four decades, the Florida Keys Sport Lobster Season has been a cherished tradition. Taking place the last consecutive Wednesday and Thursday of July (This year July 26 – 27, 2023), this 2-day event allows recreational divers and snorkelers the opportunity to hunt for spiny lobsters in designated areas throughout the Florida Keys. Unlike commercial lobster fishing, this season is all about the thrill of the chase, the joy of underwater exploration, and the appreciation for nature's bounty.
A Diver's Dream: The Adventure Begins
As the summer sun graces the Florida Keys, diving enthusiasts gear up for the adventure of a lifetime. From beginners to seasoned pros, the Sport Lobster Season (also referred to as the Mini Lobster Season) offers something for everyone. The warm waters of the Keys make for excellent visibility, allowing divers to spot these spiny creatures hidden among coral formations and rocky crevices. Swarms of divers don their gear and set out on boats, eager to explore the underwater wonders of the Florida Keys and, if lucky, return with a prized catch.
Conservation and Responsible Harvesting
The Florida Keys National Marine Sanctuary places great importance on protecting the fragile ecosystem and promoting sustainable fishing practices. To ensure the lobster population remains healthy and abundant for years to come, strict rules and regulations are enforced during the Sport Lobster Season. Divers are required to possess a valid saltwater fishing license with a Lobster Tag, and there are size and bag limits in place to prevent overfishing. Additionally, the use of proper lobster-catching equipment, such as nets, is encouraged to minimize any potential harm to the environment. See below for more information on Florida Keys Spiny Lobster regulations.
Community and Festivities
The 2023 Sport Lobster Season is more than just an underwater adventure; it's a celebration that brings communities together. Alongside the diving expeditions, various events, and festivities are organized, providing opportunities for people to come together, share stories, and enjoy delicious seafood delicacies. Local restaurants serve up your catch in mouthwatering lobster dishes, adding a touch of gastronomic delight to the entire experience.
Preserving Memories, Protecting the Florida Spiny Lobster Future
As divers return from their expeditions, the thrill of the hunt is not just about the size or quantity of the catch; it's about the unforgettable memories created during this annual tradition. The 2023 Sport Lobster Season will leave participants with a profound appreciation for the beauty of the Florida Keys' underwater world and a commitment to protecting its delicate ecosystem.
Florida Keys Spiny Lobster Regulations
Florida's 2023 lobster sport season, locally dubbed "mini season" for its short two-day time duration, begins Wednesday, July 26 at 12:01 a.m. and ends at midnight Thursday, July 27. The  regular lobster season begins at 12:01 a.m. Aug. 6, 2023 and ends at midnight March 31, 2024.
Best Practices for Safety & Success
1. Measure each lobster correctly, and measure while still in the water. Carapace (hard part of shell) must measure greater than three inches! If a lobster is too small, it must not be harvested. Carapace (hard part of shell) MUST measure GREATER THAN three inches to be legal size.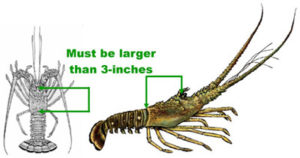 2. Use the dive flag. Put it UP when diving, and take it DOWN when underway. Divers must stay within 300 feet of their dive flag (or 100 feet if in a channel).
3. Six means six! Limit is six lobsters per person, per day, ALL day in Monroe County. No double-dipping trips.
4. It is a felony to damage, molest or take lobster from traps in state or federal waters. Recreational trapping is prohibited.
5. Check and replenish ALL necessary boat safety gear.
6. Idle speed when within 100 yards of a boat displaying a dive flag.
7. It is prohibited to touch coral, bump corals with dive fins, stand on coral and/or anchor your boat on coral.
Harvesting in Florida Keys Local Waters: When and Where?
During the July two-day sport season (July 26-27, 2023) and regular lobster season, (Aug. 6, 2023 – March 31, 2024), NO snorkeling or diving is allowed within 300 feet of residential or commercial shoreline. This includes canals and any public or private marinas. Night diving, defined as one hour after sunset and one hour prior to sunrise, is prohibited during the two-day sport season.
In Marathon, this local rule applies during the the two-day sport season.
In Key Colony Beach, this local rule applies during the four days preceding sport season and continues until 10 days have elapsed after the opening of regular season.
Sanctuary Preservation Areas within the Florida Keys National Marine Sanctuary are marked by yellow buoys.
In unincorporated areas of Monroe County and in Key West this local rule applies during the three days preceding sport season, the entirety of sport season and the first five days of regular season. 
Certain Florida Keys National Marine Sanctuary zones called Sanctuary Preservation Areas, Ecological Reserves and Special-use Research Only Areas are CLOSED YEAR-ROUND for harvesting and are NO-TAKE ZONES. These areas are marked by yellow boundary buoys. New Coral Reef Protection Areas within Biscayne National Park went into effect in 2020, closing all harvest of lobster in five areas. Visit https://myfwc.com/fishing/saltwater/recreational/bnp
Other Closed Areas (Year-Round):
Everglades National Park
Dry Tortugas National Park
San Pedro Archeological State Park, Islamorada
Biscayne Bay Card Sound Spiny Lobster Sanctuary
City of Layton
Artificial Habitat in State Waters
It is prohibited to discard lobster and fish carcasses in Keys canals, as they can quickly decompose and affect the healthy ecosystem. Please dispose of this organic matter in a tightly sealed trash bag or receptacle.
Conclusion
The 2023 Florida Keys Sport Lobster Season has once again proven to be a celebration of marine life, adventure, and conservation. As divers and snorkelers unite to explore the depths of the ocean, they also pledge to protect its treasures for generations to come. The spirit of this annual event lies not only in the thrill of the chase but also in the shared passion for the preservation of the ocean's wonders. So, if you're seeking an unforgettable underwater adventure and a chance to connect with nature, mark your calendars for the 2024 Sport Lobster Season and be a part of this remarkable Florida Keys tradition.
These Keys Treasures Designs and many more are available on products such as T-Shirts, Stickers, Magnets, Mugs, Phone Cases, and much more at KeysTreasures.ReBubble.com