With the changes to the US economy, due to the recession from 2008-2010, Americans changed their vacation, and weekend road trip, choices from overseas locations to more local ones that can be driven to. This has had an impact on traffic at many desirable locations through out the US, including the Florida Keys.
In the old days the road trip from mile marker 100 to mile marker 80 was actually a pleasure, even factoring in the abnormally large number of orange cones that always lined Overseas Highway.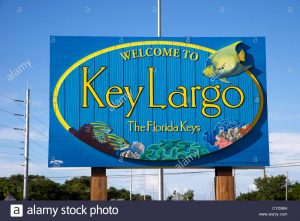 Back then, the 20-mile drive usually meant 30 minutes of beautiful scenery and minimum traffic. The most dangerous part was swerving around the occasional suicidal peacock or iguana playing chicken. All in all, it was an easy drive and one of the main reasons I loved living down here. Now, however, I've noticed the traffic has become weirdly heavy and my personality has drastically changed out of necessity. I've been forced to become an aggressive and, yes, even rude driver in order to simply get from Key Largo's post office to Starbucks anymore. I should paint my black minivan taxicab yellow because I'm a beaded seat cover short of becoming a crabby cabbie in Manhattan during rush hour. Our small town Overseas Highway is actually becoming a grown-up with lots of responsibilities.
Where did our childhood highway go? I am trying to grow up and accept our new reality. Change is a difficult process though. Who would think I'd have to plan bathroom stops when I drive 20 miles in the Keys? At this point, I could sell maps of the bathrooms I've discovered here lately, with ratings as to which business has cleaner restrooms or, more importantly, which also sell the best coffee. Honestly, last week, I pulled over at Burger King in Islamorada during the Nautical Flea market and actually found MEN standing in line, waiting to use the restrooms. It was funny to see each new male "wannapee" brazenly walk past all of us and pull on the locked men's door in denial, and then shuffle to the back of the line, confused. You know the traffic is bad when men are standing in lines at Burger King's bathrooms.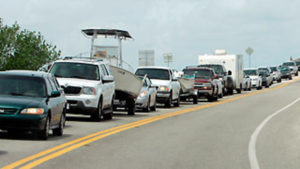 The excessive traffic and long bathroom lines must be why I have also seen too many motorcyclists randomly pulling over on the side of the road lately. I don't really understand if they think their motorcycle is hiding them or if they think their leather clothes make them blend in with the mangroves. Neither of these theories is even remotely close and upset car people. Mostly because we do not have many visual options when traffic is stopped, but also because we're conflicted whether to be disgusted or jealous. After all, Burger King might take another 20 minutes, at the speed we're going and that coffee is running right through us. Which brings me to my new driving routine. It doesn't matter if I'm just making a quick run to Kmart or if I'm – God forbid – driving to Key West. Before I start the ignition, I go through a mandatory checklist that could rival preparations for a spaceship launch. I make sure the gas tank is full, tire pressure adequate and the oil and water levels are all good. But more importantly, my windshield wiper fluid has to be refilled almost monthly. Sure, there's a lot of coral dust and roadwork in the Keys, but turning on your wipers can almost be therapeutic. Cleaning the windows while you sit in traffic makes you feel like you're accomplishing something. It also distorts the view out of the front windshield when motorcyclists do randomly pull over.
Which brings me to entertainment. Have audio books downloaded, get your Bluetooth turned on, and create a good playlist. I'd even go as far as saying to stock an eyebrow plucker in a handy place. It doesn't hurt to take a quick look in natural light while you're at a complete stop.And, again, it's better to look at chin hairs than at "other things" if you're stuck on the road. Pack snacks. Almonds are one of my staples but I've been known to bring a soft-sided cooler with ice for cheese sticks and waters. Remember, plastics can become toxic inside a car here in Florida when you leave it unattended even for a mere 15 minutes. Marie Curie would have been giddy analyzing some of the radiation effects on unopened yogurt containers found under my back seats.
Which leads us to basic necessities. Now, I find it's smart to carry a roll of paper towels, mailing envelopes, stamps, scissors, wrapping paper, scotch tape, blankets, change of clothes, shoes, pillows and medicine. I'm not just talking about Advil or Neosporin. I'm talking about antibiotics and Xanax. Especially Xanax.It's not smart to miss taking your Xanax when you're dealing with this traffic. Finally, plan accordingly. If you have made a doctor or hair appointment six weeks ago, it's time to accept the fact that your 20-mile drive is going to take an extra 20 minutes now.