Swimmers, including those wearing mermaid tails, can attempt an epic swim around the island of Key West Saturday, June 15, during a 12.5-mile open-water race for individuals and relay teams.
Entrants in the annual Florida Keys Community College Swim Around Key West can register as solo competitors or in teams of two to six swimmers with or without fins. The race also includes categories for Special Olympics athletes and for swimmers with monofins or mermaid tails.
The challenge typically attracts entrants from the U.S., Canada and abroad to vie for awards in age categories ranging from 12 and under to 70 and over.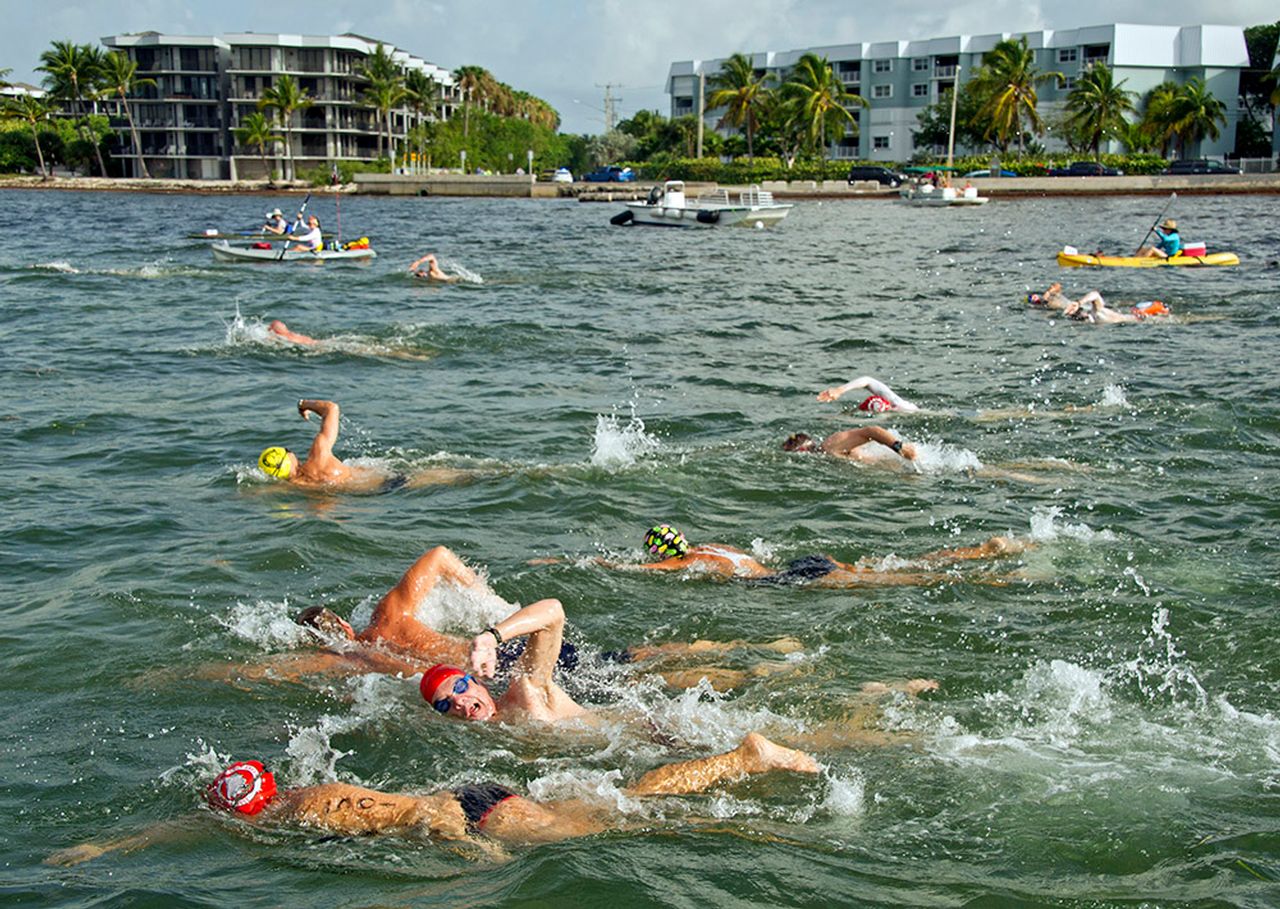 Sanctioned by the World Open Water Swimming Association, the 2019 swim is to begin at 7:30 a.m. Saturday at Smathers Beach, located at 2601 S. Roosevelt Blvd. on the Atlantic Ocean.
All solo swimmers and teams must check in Friday, June 14, at the Florida Keys Community College pool on campus at 5901 College Road.
The clockwise route around the island encompasses the waters of the Atlantic Ocean and Gulf of Mexico, with a finish line at Smathers Beach. The course takes participants past Key West landmarks including the Southernmost Point marker that designates the continental United States' southernmost land mass.
Each swimmer must provide a support crew and kayak or boat to accompany them around the island. Lifeguards and kayaks will be positioned throughout the course for safety.
Swimmers who prefer a shorter challenge can participate in 800-yard, 1-mile, 2-mile and 6.2-mile (10k) competitions in the Atlantic waters off Smathers Beach. Following courses marked with poles and/or buoys, the shorter races are scheduled to begin at approximately 8:15 a.m. Saturday.
According to event organizers, activities also are to include a Conch Tour Train excursion around Key West with mermaids and other swim participants departing from the Key West Historic Seaport at 6 p.m. Thursday, June 13.
Swimmers must register by June 14. The entry fee for the 12.5-mile race is $120 per solo swimmer and $200 to $560 per relay team depending on the number of team members. Entry fee for the 10k race is $75 per person, and each shorter race is $30 per person. Discounts on solo swimmers' fees are available for United States Masters Swimming and USA Swimming members.
Rainy Season Equals Mosquito Season in the Florida Keys
The Swim Around Key West benefits the Key West High School swim team and the Keys' Bone Island Swim Club.
Event information and registration: swimaroundkeywest.org or 305-809-3562