Springtime in the Florida Keys & Key West is easy and breezy, with weather that's ideal for all types of outdoor activities on and in the water and in the Keys' scenic wide-open spaces.
As sustainability remains a priority with the restoration and preservation of the Keys' fragile environment and natural resources, plans for a new satellite land-based coral nursery are underway to expand Mote Marine Laboratory & Aquarium's resilience-focused coral restoration efforts in the Upper Keys.
In the Middle Keys, a new 60-person visitor tram, to run along the newly reopened 2.2-mile span of the Old Seven Mile Bridge, or "Old Seven," is soon to be operational to take visitors to historic Pigeon Key, the tiny island nestled beneath. The landmark old bridge parallels the Florida Keys Overseas Highway.
Here's what's new in the Keys:
Florida Keys Accommodations
In Key Largo, the former Key Largo Bay Marriott Beach Resort is now the 153-unit Reefhouse Resort & Marina, an Opal Collection resort portfolio member. Located on 17 acres overlooking Blackwater Sound, Reefhouse Resort and Marina includes traditional and two-bedroom suite-style accommodations, a private beach, on-site marina and dive shop. Amenities include By the Bay Spa, a 24-hour fitness center, pool, poolside Flipper's Bar, Breezer's Tiki Bar and Gus' Grille for all-day dining in a waterfront setting with outdoor covered patio. The property also features 50,000 square feet of indoor and private outdoor space for gatherings of up to 200 guests. Its on-site Key Largo Conference Center offers seating for 250. Reefhouse Resort & Marina is located at 103800 Overseas Highway. Visit ReefhouseKeyLargo.com or call 305-453-0000.
In Islamorada, Chesapeake Beach Resort has completed extensive resort room renovations. It offers 52 total rooms and suites including 32 oceanfront and 20 standard rooms, each with balconies; two pools, beach bar and sandy beach venue for weddings, events, family reunions and corporate retreats. Also fully renovated is the resort lobby, with a newly added gift shop. The property is adding 13 villas by July 1 and a Tiki bar. Kayaks, paddleboards and fishing rods are available for rent; a boat ramp and dock are to open this summer. It's located at 83409 Overseas Highway. Visit chesapeake-resort.com or call 305-664-4662.
In Islamorada, Sun Outdoors is expanding its presence in the Keys with its third RV resort, the new 12-acre Sun Outdoors Islamorada RV, scheduled to open by late 2022 at 87425 Old Highway #1. Included are to be 82 RV sites, heated pool, private boat dock with rental slips, workout center, sunning beach area and Tiki hut. Sun Outdoors also owns Sun Outdoors Key Largo, the former Riptide RV Resort & Marina at 97680 Overseas Highway, with six motel rooms, two efficiencies and 12 vacation rental units and 35 full hookup sites. Sun Outdoors Marathon, the former Pelican RV Resort & Marina at 59151 Overseas Highway, has 16 full hook-up RV sites, seven motel rooms, three efficiencies, 11 vacation rentals and 300 feet of waterfront. The three properties are pet-friendly and welcome all ages. Visit sunoutdoors.com and soislamorada.com or call 888-886-2477.
On Duck Key, the 60-acre Hawks Cay Resort, a AAA Four-Diamond Award and Preferred Hotel Group Lifestyle Collection member, is using six robots to assist with patron service at its casual waterfront Angler & Ale marina restaurant. The robots support food and beverage team members by serving prepared meals and returning dishes to the kitchen, enabling the resort to put team members in guest-facing positions. The property also is using robots to vacuum and sweep guest corridors and event meeting spaces on a timed schedule, and to sanitize solid floor surfaces, dispensing a cleaning solution and wiping the floors. Hawks Cay is billed as the largest resort in the Florida Keys. Visit hawkscayresort.com or call 855-395-5539.
Ever slept in an Airstream RV? In Marathon, Coconut Cay RV Resort and Marina, adjacent to Florida Keys Marathon International Airport, features minimum three-night stays in two Airstreams — named Betty and Delia —  with outdoor seating area, picnic table, two chairs, mat and gas grill. Priced from $239 per night, the Airstreams are stocked with hotel-quality linens, plush towels, cookware, a dishwasher, coffee maker and gourmet coffee. "Betty" sleeps two adults and one or two small children, while "Delia" sleeps up to three adults and two small children. Coconut Cay Resort and Marina has 24-hour security cameras, boat slips for rent, a dog walk area, laundry facility, outdoor pool, showers, sunset beach and kayak and bicycle rentals. Opened in 2020, Coconut Cay is located at 7200 Aviation Blvd. Visit staysublime.com/coconut-cay-rv-resort-marina or call 260-782-5463.
In Marathon, Isla Bella Beach Resort has unveiled its new Polynesian-inspired restaurant, Mahina at Isla Bella Beach Resort, with upscale Pacific Rim cuisine flavored with Japanese, Korean, Polynesian and Micronesian influences. Fare highlights include squid ink linguine, Ahi tuna poke, lobster-crusted mahi-mahi with macadamia nut orange brown butter, and a 14-ounce Kurabota pork chop marinated for 24 hours in Thai herbs. Mahina's dining is influenced by easy access to fresh local Florida Keys seafood and ambiance of the resort's oceanfront dining. Mahina seats 34 inside, 64 on the patio, and 60 on its sand area; dinner reservations are encouraged. The venue is on-site at 1 Knights Key Blvd. Visit islabellabeachresort.com/dining/mahina/ or call 786-638-8106.
In Key West, the 6-acre 293-room Southernmost Beach Resort at 1319 Duval St. has unveiled a $15 million renovation to its exterior facade, breezeways and guest rooms. Rooms are accented with warm sand tones and muted nautical blue shades. The resort features three pools, three al fresco bars, signature oceanfront restaurant Southernmost Beach Café, full-service spa offering beachside massages, cabanas, beach access and a secluded tanning pier. The resort's lobby and the Pineapple Pool and Bar are also refurbished. The Guesthouses at Southernmost Beach Resort — which include 50 units in the adjacent Avalon and Duval Gardens properties acquired by Southernmost Beach Resort in 2021 — and the resort's on-site La Mer and Dewey buildings are slated for renovations in 2023. Visit SouthernmostBeachResort.com or call 800-354-4455.
Florida Keys Landmarks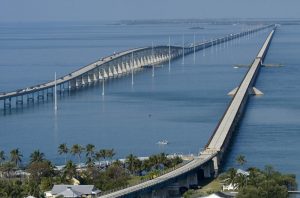 In the Middle Keys, visitors and residents are once again cycling, walking, running, rollerblading and watching sunrises and sunsets along a section of the famed Old Seven Mile Bridge that parallels the Florida Keys Overseas Highway. A 2.2-mile span of the bridge nicknamed "Old Seven" reopened to pedestrian recreation in January after a renovation that began in 2017. The landmark structure was originally the centerpiece of railroad magnate Henry Flagler's Florida Keys Over-Sea Railroad, which debuted in 1912 and connected the Keys with each other and mainland Florida for the first time. The 2.2-mile section serves as the gateway to Pigeon Key, a tiny island nestled beneath the old bridge that was once home to about 400 workers constructing the railroad. A 60-passsenger visitor tram is scheduled to be operational by May to run along the historic span taking visitors to Pigeon Key. The tram is to feature a locomotive front and two 30-passenger coaches. The modern-day Seven Mile Bridge (actually 6.79 miles long) marks its 40th birthday May  24 as one of the world's longest segmental bridges. Visit pigeonkey.net  or call 305-743-5999.
Florida Keys Parks
The new Flamingo Lodge & Restaurant in Everglades National Park, celebrating its 75th anniversary this year, continues its construction from modified and enhanced shipping containers to be connected by a boardwalk. The new facilities are to open later this year in the park's Flamingo area on mainland Monroe County, about a 40-minute drive from the park's entrance. The 24-unit lodge is to offer one- and two-bedroom suites with kitchenettes and balcony fronting Florida Bay, and include studios and those with accessibility. The new indoor-outdoor restaurant and bar is to be open daily for breakfast, lunch and dinner. A new Flamingo Visitor Center also is under construction. Everglades National Park is to culminate its 75th anniversary Dec. 6. Visit flamingoeverglades.com/flamingo-lodge-restaurant  or call 855-708-2207.
Florida Keys Environment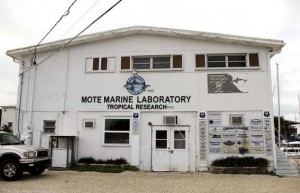 Mote Maine Laboratory & Aquarium is developing a satellite land-based coral nursery — the first in Key Largo and Mote's third land-based nursery in the Keys — at Reefhouse Resort & Marina, formerly the Key Largo Bay Marriott Beach Resort at 103800 Overseas Highway. The new facility will expand Mote's land-based resilience-focused coral restoration efforts to the Upper Keys. It's expected to be operational by summer with the capacity of 20,000 coral fragments. Permits for additional Upper Keys underwater nurseries are pending. Mote's second satellite land-based coral nursery, unveiled in May 2021, is at Bud 'N Mary's marina in Islamorada. Through a partnership with I.CARE, that mission is to transplant brain, star and branching corals raised both onshore and offshore by Mote to reefs off Islamorada. Mote has outplanted more than 140,000 coral fragments, with a 90 percent average survival rate, on Florida's Coral Reef. In addition, thousands of corals are growing at Mote's land-based nurseries on Summerland Key and Islamorada and in two underwater Lower Keys coral nurseries. The Lower Keys' Mote Marine Laboratory's Elizabeth Moore International Center for Coral Reef Research and Restoration is based on Summerland Key. Visit mote.org or call 305-745-2729.
Florida Keys Attractions
In Key West, the Old Island Restoration Foundation's Oldest House Museum and Gardens has completed a full outdoor garden redesign and renovation that began in April 2021. The garden now includes 13,000 square feet of subtropical foliage, meandering gravel paths and brick walkways. It can accommodate up to 120 seated diners or 300 for a cocktail party, event or wedding. On-site, the Oldest House Museum is Key West's most historic home, dating back to 1829. A new fire suppression system, designed to protect and preserve the historic largely wooden structure, was recently completed. Located at 322 Duval St., the property is open 10 a.m. to 4 p.m. daily. Visit oirf.org or oldesthousekeywest.com or call 305-294-9501.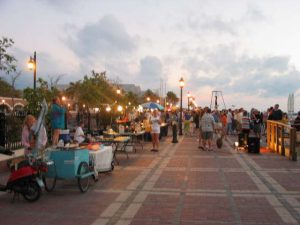 The Key West City Commission has approved a plan to revitalize and redesign the island city's famed Mallory Square, known worldwide for its nightly sunset celebrations. The Sunset Celebration/Mallory Square Master Plan includes upgrading the space into a public plaza for outdoor activities with enhanced landscaping, lighting, signage and seating, new sunshades and outdoor performance space at the Waterfront Playhouse theater. Planning firm Sasaki of Watertown, Massachusetts, in its written proposal, said Mallory Square "should be a flexible, vibrant public hub for arts, events and play."
In Key West's Truman Waterfront Park, the Florida Keys Eco-Discovery Center, currently closed but scheduled to reopen fully by late 2022, is planning to showcase a freestanding main exhibit focusing on the Florida Keys National Marine Sanctuary through multiple videos and hands-on interactive activities. Another exhibit is to highlight Florida Keys mangroves and allow visitors to crawl and climb through life-like mangrove branches. Visit floridakeys.noaa.gov/eco_discovery.html or call 305-809-4750.
Florida Keys Tours
In Marathon Captain Pip's Marina & Hideaway has a new snorkeling boat, Island Spirit, offering all-day excursion trips, first heading to Sombrero Lighthouse for a snorkel, then off  to Money Key for lunch and relaxing, for eight to 19 passengers. The tiny Money Key has appeared in several movies, including "License to Kill," "True Lies," "2 Fast 2 Furious," and "Mission: Impossible III." At Captain Pip's, resort overnight accommodations include 10 guest rooms, 10 one-bedroom apartments, seven two-bedroom apartments and seven efficiency units. Captain Pip's, with a fleet of 20 rental boats, also offers parasailing and jet skis, kayaks and paddleboards for rent. It's located at 1480 Overseas Highway. Visit captainpips.com or call 305-743-4403.
Florida Keys Boating
On Stock Island Bluesail Vacation Yachts & Sailing Academy announces a new sailing training program, The Boat Owner Master Class. The training is bundled into three weeklong sessions. The program offers customized and private clinics for each student or family to educate new boat owners or those awaiting the delivery of a new boat to improve overall seamanship and to accommodate insurance underwriter requirements for on-the-water experiences. The assessment tools used in this program are verified by the National Association of State Boating Law Administrators via the American National Standards Institute. Training clinics also are conducted aboard vessels that have passed U.S. Coast Guard examinations for meeting safety requirements. Visit bluesailcharter.com or call 813-601-5243.
Keys Marinas
Dallas-based Suntex Marina Investors LLC has acquired Garrison Bight Marina in Key West and Caloosa Cove Marina in Islamorada. The full-service Garrison Bight Marina consists of 17 wet slips and 227 dry slips, indoor and outdoor storage, a fuel dock, ship store, Yamaha motor sales and service center and waterside dining at Thai Island.  Renovations are planned for the Garrison Bight dock and offices. Caloosa Cove Marina's amenities include 32 wet slips accommodating boats up to 50 feet long, 88 dry slips, a general store and gas station, the on-site Caloosa Cove Resort with suite accommodations and Habanos Oceanfront Dining restaurant serving Cuban cuisine. The Suntex Keys marina portfolio also includes the 74-slip Faro Blanco Resort Marina, accommodating vessels between 35 and 140 feet long. Marina guests have use of Faro Blanco Resort's amenities. Visit suntexmarinas.com or call 972-789-1400.
Florida Keys visitor information: fla-keys.com or 1-800-FLA-KEYS
Source: What's New in the Florida Keys & Key West for Spring 2022 | Florida Keys Newsroom
These Keys Treasures Designs and many more are available on products such as T-Shirts, Stickers, Magnets, Mugs, Phone Cases, and much more at KeysTreasures.ReBubble.com