Located a mile south of Indian Key Historic State Park is the San Pedro Underwater Archaeological Preserve State Park. This park holds the distinction as the only underwater archaeological state park in the Florida Park Service. The San Pedro, a 287-ton ship, was one of a fleet of 21 ships that left Havana in 1733 en route to Spain. As the fleet approached the Florida Keys, all but one of the ships were driven aground by a hurricane. That lone ship went back to Havana, and then returned to the Keys with rescue ships, to recover cargo and rescue survivors. Thirteen of the vessels, including the San Pedro, could not be re-floated, so the ships were burned to the water line to prevent salvage by wreckers.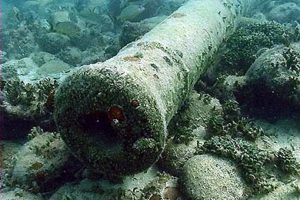 Over the course of several years, most of the ships' cargo was recovered, including more gold, silver and coins than were documented on the original manifest. The San Pedro is a 640- acre state park accessible by boat and a unique destination for divers and snorkelers. The wreck lies in 18 feet of water and consists of an anchor and a pile of ballast stones 90 feet in length and 30 feet in width. These ballast stones include river rock and galley stone tiles that cover a portion of the ship's hull. The condition of the hull is unknown, as the timbers are buried not only under the ballast stones, but also under the sandy substrate. The ship's original cannons had been removed during earlier salvage efforts. In 1989 the Florida Park Service replicated the shipwreck by installing eight concrete cannons, positioned as they would have been prior to human disturbance.
Surrounding the wreck is a healthy seagrass habitat. In this habitat, a variety of fish species, including porkfish, bar jack, grunts, snappers and angelfish. The structures of the San Pedro provide suitable substrate for a suite of coral species, including elliptical star coral, grooved brain coral, smooth brain coral, maze coral, starlet coral, blushing star coral and mustard hill coral. A spar buoy marks the site of the San Pedro Underwater Archaeological Preserve State Park. Five mooring buoys allow for safe access to the site without the need of deploying an anchor. These mooring buoys protect not only the cultural resource of the wreck of the San Pedro but also the surrounding seagrass bed from anchor damage. A historic plaque is cemented on a monument at the bow of the shipwreck.
The San Pedro shipwreck is listed on the National Registry of Historic Places. It is also considered significant because it has the potential to provide information about 18th century merchant vessels and trans-Atlantic maritime culture. In order to protect this cultural resource, only passive recreation of diving and snorkeling is permitted. Collection of natural or cultural resources is prohibited.
For more information about Florida State Parks, visit FloridaStateParks.org. Janice Duquesnel is a biologist with the Florida Park Service