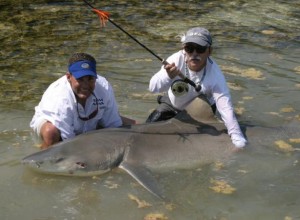 Fishing legend, Captain Ralph Delph, made his final cast February 13, 2016 at 3:00am (exactly), in his home in Gallatin Gateway, MT, surrounded by family and dear friends. He was 75 years old. Fishing enthusiasts will remember Ralph as one of the founding members of the Miami Sportfishing Club, a two time "Master Angler" of the prestigious Miami Metropolitan South Florida Tournament (MET), later guiding more "Master Anglers" than any other captain in MET history. As a pioneer and innovator of light tackle sport fishing, his wisdom and genius enabled him to guide clients to 293 I.G.F.A. certified world records and henceforth receive the I.G.F.A. Lifetime Achievement Award.
His passion for fishing drew him from pole to pole and throughout the western hemisphere. He was best known in the industry for his unbridled passion to be the very best. His inspiration and influence was far reaching, well beyond fishing and hunting. Ralph's ambition for success translated into all aspects of life, guiding others through their journey to achieve their highest potential. As a Melchizedek priesthood holder in the Church of Jesus Christ of Latter Day Saints, his love for Jesus Christ and the gospel were central to his character. As much as he loved fishing, he loved the Lord and Savior more and was committed to keeping the Sabbath day holy.
Captain Ralph Delph, son of the late Ervin and Crystal (Cook) Delph of Kentucky is survived by his sister, Betty Jean Wilson (Steven), wife, Caroline Phipps Delph, 9 children by two marriages; children by first wife, Harriet Suarez Dickson, Mary Wendyln "Wendy" (Lane), Dawn Gonzalez (Julio), Natalie "Joy" Sanfilippo (Bob), Virginia "Ginger" Cardona (Juan), Chris Simms (Doug), children by current wife, Caroline Phipps Delph, Michael Delph (Edee), Robert "Rob" Delph (Lynda), William "Billy" Delph (Piper) and Timothy Delph (Brooke), along with 24 grandchildren and 6 great grandchildren.
Services will be held at the Church of Jesus Christ of Latter Day Saints chapel located at 2915 Colter Avenue, Bozeman, MT, 59715
Ralph Delph Achievements
▪ He guided anglers to at least 293 IGFA-certified world records.
▪ He landed four giant bluefin tuna over 1,000 pounds (including one weighing 1,154) on a stand-up rod.
▪ He guided more master angler winners than any other captain in the Metropolitan South Florida Fishing Tournament (MET) — which ran from 1935 to 2008 and predates the IGFA by four years.
▪ He guided anglers to seven of the heaviest fish ever caught on fly rod — including a 385-pound lemon shark that was released alive.