The Permit Spawning season closure inside the Special Permit Zone in south Florida starts April 1. This closure includes all state and federal waters south of Cape Sable on the Gulf coast, and south of Cape Florida on the Atlantic coast including all of the Florida Keys and Biscayne Bay.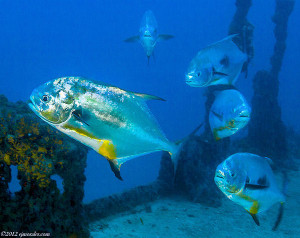 The month of April was added to the existing May-through-July Permit Spawning season closure at the February Florida Fish and Wildlife Conservation Commission (FWC) meeting.
For information on permit, visit MyFWC.com/Fishing and click on "Saltwater Fishing," "Recreational Regulations" and "Permit, Florida pompano, African pompano."
Special Permit Zone (SPZ)
(South of Cape Florida and Cape Sable)
The Special Permit Zone includes state and federal waters south of Cape Florida in the Atlantic and south of Cape Sable in the Gulf.
The Pompano Endorsement Zone (PEZ) pictured on the map above is a zone created that allows commercial fishermen who hold a pompano endorsement (PE) to use gill nets legally for pompano in federal waters off Florida.
Habitat and Fishing Tips:
Permit: These coastal fish inhabit tropical grass and sand flats, near reefs and wrecks. Permit have a specialized plate at the back of their mouth that helps them crush hard-shelled animals such as clams and crabs. Anglers cast live crabs to schools of permit hoping to catch one of these line-stripping fish, which also take shrimp, clams and occasionally small fish. Permit are most common in south Florida. This member of the jack family can reach 40 inches and 50 pounds, but most are about 25-pounds.
State Record:
Permit: 56 lb 2 oz, caught near Ft. Lauderdale