The fabled Fantasy Fest Pet Masquerade, scheduled Wednesday, Oct. 23, is to evoke echoes of melodies like the iconic "Who Let the Dogs Out" and the classic "What's New Pussycat."
That's because the wacky masquerade contest is expected to draw creatively costumed cats, designer-togged dogs and other domestic animals and their humans — all decked out to dazzle spectators during Key West's 40th annual Fantasy Fest.
The animal antics are a highlight of the outrageous masking and costuming extravaganza. Scheduled Friday, Oct. 18, through Sunday, Oct. 27, the festival is themed "In Tune But … Off Key" to celebrate musical merriment of all kinds.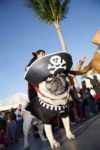 The critter contest typically features several dozen entries ranging from costumed pet-and-person duos to animal-and-human ensembles staging choreographed performances.
Many entries are likely to draw inspiration from Fantasy Fest's musical theme, perhaps promenading as Elvis Presley and his "Hound Dog," the characters from the beloved Broadway musical "Cats" or even Warren Zevon's offbeat "Werewolves of London."
Open to all domestic animals, the furry festivities are set to begin at 6:30 p.m. — a new time for the favorite event — at the Key West Amphitheater at Truman Waterfront Park, 21 E. Quay Road.
Judges traditionally award prizes for the top junior contestants, most exotic attire, best theme adaptation, best pet-owner look-alikes and overall grand prize winner.
Registration for competitors begins at 5 p.m. and the fee is $25 per category.
General admission for spectators is free, with ample seating as well as space for attendees' blankets or lawn chairs. Plans call for food and beverages to be available for purchase on-site, so coolers are not allowed.
Proceeds from the Pet Masquerade benefit the Lower Keys Friends of Animals.
Event information: facebook.com/keywestpetmasquerade, fantasyfest.com