Florida Keys residents headed to Harry Harris Park may be asked for address information beginning Saturday. A gatehouse at the entrance to the popular oceanfront park is expected to be staffed Oct. 5, with out-of-county residents charged for admission.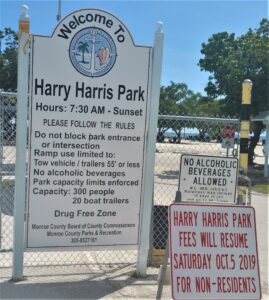 Non-residents will be charged $5 per person. Boaters living outside the Keys will be charged $30 to use one of the two boat ramps.
For example, four non-resident visitors arriving with a boat in tow would be charged a total of $50, Monroe County information officer Kristen Livengood confirmed earlier this week.

More than two years after Hurricane Irma caused significant damage to Harry Harris Park, most facilities have been repaired. Work to restore lighting at the two ball fields used for youth baseball and adult softball is pending.
Harry Harris Park is located near mile marker 92.7 in Tavernier, at the intersection with Burton Drive. Follow signs to the park.
Source: Park fee resumes for non-residents – Keys News
And some good news, the photo below shows part of the coastline in the park, without any buildup of Sargassum Seaweed.