It's been 80 years since you could travel the Florida Keys by rail. But Monroe County wants to look into bringing it back, as a monorail or light rail system.
The Monroe County Commission Tuesday approved a resolution asking the state Department of Transportation to to conduct a feasibility study on the project.
The idea came from the county's Climate Change Advisory Committee. Part of that committee's mission is finding ways to reduce greenhouse gas emissions and encouraging public transportation.
"We have two roads in and out. Traffic has been getting worse and worse. We have accidents almost weekly, often fatal," said Monroe County Mayor Heather Carruthers. "We have to find a more sustainable way to get around."
Commissioner Danny Kolhage, the only Keys native on the commission, voted in favor of the proposal — but only after adding language that the study include the impact on the character of the islands and its potential effect on the scenic corridor along the island chain.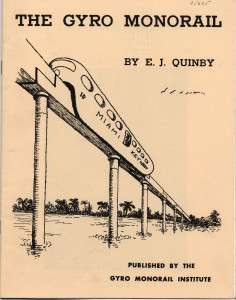 This is not the first time monorail has been proposed for the Keys. This proposal from 1970 would have had a rail running from the Miami Airport straight to Key West, bypassing most of the Keys and running through the Everglades and Florida Bay.
"I have visions of a thousand concrete pillars supporting a monorail from one end of the Keys to the other," Kolhage said. "I just can't even think about it."
The Overseas Highway, as U.S. 1 is known in the Keys, is designated a scenic highway by the state and federal governments. Many of the bridges originally built to carry Henry Flagler's Key West Extension of his Florida East Coast Railway have now been incorporated into the Overseas Heritage Trail, a state park.
Carruthers said those considerations can be taken into account.
"Frankly, seeing the powerlines when we come down the road is not very pretty, either," she said. "I think there's a way we can maintain our character and also improve our sustainability."
This isn't the first time a monorail has been proposed for the Keys. In 1970, an inventor drew up a detailed proposal for a rail that would go straight from Key West to Miami International Airport, crossing Florida Bay and the Everglades rather than following the curving path of the highway.
"I don't think anybody ever got serious about it," said Tom Hambright, historian at the Monroe County Public Library. "He was one of those guys who was an inventor who had all sorts of ideas."
Source: WLRN.org